Sermon on December 12, 2021
KaB FKB (Christian Linde)
"I want to give you a present. God
– with

Peace and joy

"
This sermon is translated from German into English. You can find the original video here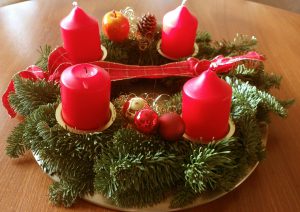 3. Advent
So much fuss about a newborn baby! Yes, is that to be believed? So much hype about an only child! What shoud that? A whole nation was waiting for this child to be born! So much excitement about an infant who comes into the world screams and shits in diapers, like all other babies.
 Wikipedia writes about this: "Even before the heir to the throne was born, it was expected that this (mainly through tourism, souvenir sales and Festivities related to childbirth) generated sales of £ 260 million. (approx. EUR 300 million today) In response to the growing public interest, the Museum of London opened an exhibition dedicated to royal children's clothing. Journalists from all over the world gathered weeks before the birth in front of the hospital where the child was expected to be born. " We're talking about George Alexander Louis of Cambridge, the first son of the English heir to the throne Prince William and his wife Kate. The baby was born on July 22nd, 2013 with a huge hype in London. A person can hardly have more attention. "The Washington Post called him the most famous baby in the world !!!" And everyone was happy. Happy, happy and happy again! Just about the birth of that child from whom one expects so much without knowing whether it will ever meet these expectations.
In fact, it's our natural response that we are happy to have offspring. Even with children who are less interested in the media. All children are a gift from God! But how great is the contrast from the birth of the George of Cambridge, who is third in line to the British throne, to the birth of Jesus, the Son of God, who is the Lord and Savior of this whole world! No reporter, no crowd has the birth of Jesus noticed 2000 years ago. And yet it is the most important birth in all of world history. For the vast majority of the people in the UK, childbirth will be up for it or even the later accession to the throne of Prince George will not change anything. But through the birth of Jesus, God offers to all people around the world to something incredibly valuable. You can't even buy it for EUR 300 million. Even if you had that much money! No, this heavenly good is only given as a gift. Motto:
"I want to give you a present – God. With peace and joy." 
Today, I want to turn our gaze to those who were the first to congratulate Mary and Joseph: A couple of shepherds from the Bethlehem area. And let's see what they have to do with joy and peace.
So after Mary had given birth to her child completely unnoticed, it went on as follows:

8 And there were in the same country shepherds abiding in the field, keeping watch over their flock by night. 9 And, lo, the angel of the Lord came upon them, and the glory of the Lord shone round about them: and they were sore afraid. 10 And the angel said unto them, Fear not: for, behold, I bring you good tidings of great joy, which shall be to all people. 11 For unto you is born this day in the city of David a Saviour, which is Christ the Lord.
12 And this shall be a sign unto you; Ye shall find the babe wrapped in swaddling clothes, lying in a manger. 13 And suddenly there was with the angel a multitude of the heavenly host praising God, and saying, 14 Glory to God in the highest, and on earth peace, good will toward men. 15 And it came to pass, as the angels were gone away from them into heaven, the shepherds said one to another, Let us now go even unto Bethlehem, and see this thing which is come to pass, which the Lord hath made known unto us.
16 And they came with haste, and found Mary, and Joseph, and the babe lying in a manger. 17 And when they had seen it, they made known abroad the saying which was told them concerning this child. 18 And all they that heard it wondered at those things which were told them by the shepherds. 19 But Mary kept all these things, and pondered them in her heart. 20 And the shepherds returned, glorifying and praising God for all the things that they had heard and seen, as it was told unto them.
10 And the angel said unto them, Fear not: for, behold, I bring you good tidings of great joy, which shall be to all people.
Not Jens Riewa, the chief spokesman for the Tagesschau, proclaims the news of the birth of Jesus in the usual matter-of-fact manner, but an angel, wrapped in spectacular shine and super light effects, speaks of "good news", literally: "Message of joy".
What is the joy that the angel proclaims ??? In order to fathom that, we have to first look, look at the recipients of the message and feel into them.
1.) "People like you and me receive the good news"
Shepherds were rather sober, rough types, they worked lonely in the fields at night. They talk, laugh, sing, argue, wake up, sleep they get by so much. If need be, they defend themselves against adversaries (wild animals, robbers). You have fear as a constant companion (darkness, replacing lost animals). Ironically, these guys experience an angel – of whom they are initially afraid. But then you hear his message:
Rejoice, the savior everyone is waiting for is now here! Ancient prophecies are now being fulfilled, and you can be part of it! The greatest event in history had just happened! The Christ was born! The Jews had waited for this moment for centuries – and when it finally came, the news was brought to humble shepherds.
Yes, they are "just" simple shepherds. But the famous and honored King David, had also been a simple shepherd boy at first. And David came from her little hometown Bethlehem. But God saw him there and called him to lead his people. And now something important should be happening again. The good news about Jesus is that he comes to all people to bring them joy and give them peace. This incident shows that it is not the first to come the high born, or the learned, or the religious. He comes first to the simple and common people, who sit in the dark, who are cold and worried. Because it is a concern of God to lift us up, to counteract our sorrow and pain. Namely the message:
We are not alone! He is there! He is there for us! And he has something in his luggage that he would like to give us: The Prince of Peace, as he is called by the prophet Isaiah (chap. 9).
Jesus Christ came into the world to bring us his peace. What is meant is heavenly peace. He does not want with all power and violence like the mighty men of the world build up his empire and pacify it with coercion and pressure. He has a completely different way: The way to look at it. To learn from him. He relies on love, on relationships, on acceptance, on participation and on sacrifice. He is ready to give all of this up to and including his life for each of us. He comes to anyone whose heart is humble enough to accept him. To anyone who admits that I can't keep peace with my fellow human beings. I get angry, I scold, I blaspheme my fellow human beings, or I am jealous, loveless, indifferent, tough, uncomprehending. Sometimes even to people very close to me, even from my family. Jesus comes into this darkness. Offer me his closeness and help. So much of what drives me and pulls me down comes from an unreconciled heart, comes from rebellion against God and his commandment, comes from the break in relationships, comes from a blunted conscience that either hides from God or even boasts and does great.
Let's look at the angel. He doesn't ask who he's looking at, whether the person is worthy or unworthy. He simply says: YOU are born the savior! You will find him! Peace be in the people on earth. 
2.) "The reliability of the message gives hope for ultimate peace"
These shepherds decide to go. They believed the angel and took the signs seriously although it sounded like nonsense that the rescuer should lie in a crib. But they find everything as the messenger of God described it. And that makes her happy! You don't have to see all of Jesus and know and understand everything. You just have to first see that the angel's message is reliable. And they believe.
The hallmarks of this Savior (v. 12) are diapers and a crib, i.e. poverty and child helplessness.
The cross will be added as a decisive characteristic at the end.
How about us today? Do we have to see and touch Jesus to believe? Or do we feel that the Bible's message is reliable? Do we not feel for ourselves that our conscience accuses us, and we need someone who gives us rest for our soul? Who speaks not only theoretically of peace, but who made the peace himself, and can only do that, because he himself is peace.
Jesus died on the cross for my personal sins. Took my guilt upon himself.  Consciously commit Advent as a time of penance and fasting. Through this, he made peace between me and God. The lovely boy with curly hair is the man with the crown of thorns on the cross. The crib and cross are made of the same wood. The crib without a cross is just kitsch. Jesus was born to die. And what then is the "joy"? In the forgiveness of sins and redemption. See
Mt 1:21: "And she will give birth to a son. You should name him Jesus, because he will save his people from their sins."
Whoever does not want Jesus as his Savior will never get to know this joy. The Shepherds do not yet have this perspective at this point. For them the key phrase is from the angel's speech "For a Savior was born to you today" When they later find out the name of the child (Jesus = God saves), then that fits together. You will probably no longer see the Savior in action (see Simeon Lk 2.25ff) But they now know that God's story continues with this world. They are not miserable and lost, but God turns to them! What the prophets promised is now coming true. They look forward to it. That gives hope for you and your children! Because when the angel has promised peace then that means they have a future! There is no threat of struggle and oppression and annihilation, but peace! And that means a sigh of relief, freedom, rest, flowering time. There is so much happiness and fulfillment hidden in that little word of peace! And just deep joy to know who accepted Jesus is connected with him, in this life and in all eternity. That relieves tremendously! Jesus carries my burden. It was a great experience for the shepherds to see this Jesus !!! On the way back they are so full of joy that it gushes out of them: they praise and praise God!
3.) "Joy and Peace through the Relationship with the Good Shepherd"
It is also interesting that Jesus himself later creates a connection between oneself and the concept of shepherd. The prophet Ezekiel speaks of a descendant of David, who is appointed by God as shepherd over his people.
And I will set up one shepherd over them, and he shall feed them, even my servant David; he shall feed them, and he shall be their shepherd.
Jesus related this promise to himself:
Joh 10, 11 I am the good shepherd. The good shepherd gives his life for the sheep. 15 … And I give my life to the sheep. 28 and I give them eternal life, and they will never perish, and no one will snatch them out of my hand.
Christ, the gift:
The degraded God "has … taken on flesh and blood the incomprehensible has happened: the invisible becomes visible. The great ruler becomes very small and defenseless. Without becoming human there would be no salvation, no forgiveness of sins without his surrender, without his death there is no resurrection.
The good news of the gospel is:
Whoever entrusts himself to this Shepherd, his life will be new, and he will be resurrected according to Jesus' example: incorruptible, wonderful, strong and suitable for eternity! Suffering and sadness are ephemeral! On the other hand, there is joy in this world and it is perfected. in God's kingdom of peace in the world to come.
What Christmas triggers in us is essentially determined by how we relate to Jesus Christ and if he is the Shepherd of our souls.
The amazing thing:
God can be found somewhere else than expected! Not in a palace or in a temple, but in a poor manger. It has remained so until today that God can be found elsewhere than expected. Maybe you can't find him in this Godi today either! Then don't be too disappointed. Take a closer look, where you might not expect him at all, he wants to make an apartment! As a rule, it is not the angels who come to us from the outside, but Jesus knocks on our heart from the inside!
Emil Quandt wrote in his Christmas carol "I want to go with the shepherds" : 5. With yourself, my liberator, I will hold a Christmas party; Come, oh come into the heart, let it be your crib!
In Advent we are called to come and to look at the child in the crib and understand: In him God comes as close as possible to us. God becomes human like us. He loves us and identifies with us. But we can also look further and notice:
That I can have peace with God, that I can become salvation and have a fulfilling relationship with God that costs this newborn in the manger all of its life. I want to remember this quietly and humbly and so rejoice anew about God's love for me and enjoy the peace, which he donated between him and me. Looking at the manger and the angels, I want to hear again what God says:
I want to give you a present. With peace and joy. – Thank you God!!!
Would you like to get to know Jesus Christ too?