PowerWord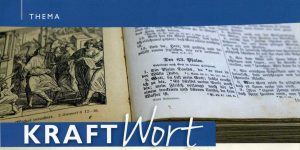 She cooked incredibly delicious, my dear grandmother. Their Sunday roast and their spaetzle, prepared over the fire of the wood stove, tasted like nowhere else. Still today, 40 years later, I have the smell in the nose. After the meal, grandma always took grandchildren with us to the "stub". Next to the rustic chest of drawers we squeezed ourselves on the ancient sofa. On the table lay her huge black family Bible. The old woman took "The Word" with trembling hands, leafing through the scrubbed pages and reading to us. We listened intently …
In their fragile voice we heard Joseph forgive his brothers, even though they had sold him abroad as slaves (Ge 50: 19ff.): "And Joseph said to them, Fear not! Am I standing by God? You thought to do it badly with me, but God intended to do it well And Joseph consoled his brothers and spoke to them kindly. "Sympathetic words from the mouth of the warm-hearted grandmother – right into my often quarrelsome family, where the separation is almost was foreseeable.
With great love, our grandmother planted her children and grandchildren in the heart of Abraham's firm faith, who held fast to God's promise that a son would be born at a great age (Genesis 15: 15ff.): God said, "Look heavenward and count the stars … So many are your descendants! And Abraham believed the Lord." Read by the 80-year-old grandmother, we immediately understood how the ancient Abraham was at heart. Week after week, she read the Bible to us, always after the meal, as long as she could. So God's Word shaped my life. "Only through the Scriptures!" With this slogan, Reformer Martin Luther made it clear in 1520 that all theological teaching and everything chris must measure the life of the Bible. That she is God's Word! His power-word – not a human word (1Thess 2,13). That the Bible is the ultimate measure of all knowledge. Words of the Bible have momentum. It can question and change virtually everything. No wise theological statement, neither scientific nor special revelation, is above her. Human wisdom is limited, not God's (1 Cor 2). My grandmother was convinced of that, just like Luther – and so am I. Why? Because God talks through the Bible.

It was in 1988 at a Christian pop concert in Laichingen on the Swabian Alb. I sat in the far corner of the hall and was completely finished; desperate at my own ego. Suddenly I listened. The blond interpreter in front beamed like an angel as she sang into the microphone: "God, you are my God, I am looking for. My soul thirsts for you! My whole man longs for you, out of dry, dry land where there is no water … "Her words brought tears to my eyes. "That's it! I want to find God, "I thought. This god that my grandmother used to talk about. The song touched me deeply. That evening, I gave my life to Jesus and joy came. Months later, while reading the Bible, I "accidentally" came upon Psalm 63: "God, you are my God, whom I seek. My soul thirsts for you … "I was crying over the open book, amazed. Never would I have thought that this song came one to one from the Bible: God's powerful word – sensitive and extremely personal – directly for me ?!
Psalm 19 praises the creation in the highest tones, for example, from verse 5b: "The sun has opened a tent to God in the sky. Nothing remains hidden from its heat." One verse further turns the psalm to the beauty of the Holy Scriptures: "The Law of Lord is perfect, it makes you happy and happy. "Here is the Word of God, literally the Torah, compared to the summer sun of heat and energy. An ingenious comparison. The author, King David, makes it clear: As beautiful and helpful and vital as the sun is so powerful and energetic is the Bible, the living Word. Through her, God speaks to us humans. Sometimes as direct as I experienced with Psalm 63 have.
Udo is a graphic artist friend, I often went to Karlsruhe and learned a lot from this fine man both professionally and personally. Once I brought him a "Hope for all" Bible in modern German as a gift. Udo read them and months later decided to live as a Christian. Just recently, on the phone, he reminded me again of how much this gift shaped him. For Udo, "I keep your [God's] Word in my heart … enjoy your statutes and do not forget your words" (Psalm 119: 11,16).
Our former missionary for Russia Johannes Lange (now director of "Licht im Osten") caused a stir during his preparation time at the Buchenauerhof. As a theologian he strongly criticized the historical-critical interpretation of the Bible, indeed he even called it "sin". Their basic approach, to systematically question the statements of the Bible with the so-called scientific doubt, and then to judge their reality and truth content according to the standards of a human intellect set as absolute, moves in the paths of the Fall: there too there stand at the beginning the doubt of God's word ("should God have said"), whereupon man is elevated to the decisive standard for everything ("you will be like God and know …"), so Lange.
Whoever declares human understanding to be the supreme authority ignores the biblical statement that the whole man is under the influence of sin, and also his mind, as well as all areas of life, repentance and conversion, needs renewal and sanctification and obedience to Christ have. Such a renewed and sanctified mind, submitting to Christ and His Word, is then of course to be used as a gift of God with all strength and thoroughness to explore, understand, and interpret the Scriptures.
Long lecture, published in a Christian journal, sparked a heated discussion among theologians – even among Lutherans who were committed to the "Sola Scriptura" (The Scriptures Only). For conscious Christians, it is not the mind that is the last resort, but the Bible itself. Just as Martin Luther saw it in the sixteenth century. So the Bible as the Word of God has the last word, also with regard to the interpretation of itself.
Ultimately, the Word of God is one person: Jesus Christ (cf Jn 1), the Eternal Savior Himself – yet we learn from Him from the Bible. It is valid worldwide and worldwide. And again and again we are astonished how she changes hearts and appeals to people from all cultures and countries in a unique way. As one of our missionaries in the Middle East experienced:
He diligently practiced Arabic writing based on the parables of Jesus. He gave the handwritten stories to a colleague
Proofreading. The Arab first explained to him which letters were to be painted more elegantly – then he asked visibly agitated what those words were. The missionary told him that the parables were from the Gospels and asked him if he wanted to read them himself. He loaned him a Bible. The enthusiasm of the Muslim knew no bounds, for God's Word had touched his heart. In a Central Asian state, where bible-sharing as a book or smartphone app is a criminal offense, a DMG employee trains Christians in narrating biblical stories. About 60 people participated in such a training – secretly in an apartment – after which they were able to recount seven Bible reports. Meanwhile, the missionary hears from people from all corners of the country, Muslims and atheists, who, after listening to the Bible stories, join a life Jesus decide. Because God's Word fundamentally speaks to her life.
As DMG, we are being motivated by the Luther anniversary in 2017 to put the uniqueness of the Bible to the hearts of people worldwide. The Scriptures must orient our faith and life. Not in ecclesiastical tradition, philosophical thought and human wisdom, as in the church of Luther's time. Not by majority opinion, fear of man and misunderstood tolerance – as in the present time. The Bible alone. And she says, "Preach the word, say it is at the time or in the time of time" (2 Timothy 4: 2). The writing works. It is the only book by which God speaks to people in this clarity. It is God's love letter to everyone worldwide. In it God's heart and his infinite love for all people becomes visible, from the first to the last page. She describes his rescue for us lost humanity. How much he has tasted it. How we became guilty and lost, and he completed his way to deliver us. The way to the cross, the Christ went:
"He gave up all his privileges and became like a slave. He became a human being of this world and shared the life of the people. In obedience to God, he humbled himself so deeply that he even took on death, even the criminal death on the cross. That is why God has exalted him and given him the rank and name that puts him above all. Everyone must fall to their knees before Jesus – all who are in heaven, on earth and under the earth; All must solemnly confess: "Jesus Christ is the Lord!" and thus God the Father is honored. "(Phil 2,6ff.).
This power word, the Bible (Old + New Testament), is above all things, as immutable as God Himself. Deuteronomy 4: 2 and Revelation 22:18 make it clear that we must neither change nor shorten the Scripture nor add anything. It is unique, final and strong. In the year of the Reformation Jubilee, the Bible is looking for new grandmothers to read patiently to their grandchildren. New women and men giving them to friends. New missionaries who explain people of all peoples and cultures. And new readers who let their hearts be changed by God. It is the great commission of God. Are you there?
Author: Theo Volland
Picture and text: DMG, News