When the St. Gotthard Tunnel did not exist, all travelers from Italy to Switzerland and vice versa had to walk across the St. Gotthard Pass. It took a lot of time.
They often went in groups. So a group of bricklayers moved to Switzerland because they could make more money there. Among them was a young man named Antonio, who on the trip came into conversation with an elderly lady who told him about Jesus. Antonio did not want to know about it. The lady offered Antonio a beautiful, leather-bound Bible as a present.
He took the Bible with him, but he did not read it. When he arrived in Glarus, he had to help build a large house. He sneered and cursed when his comrades did. When plastering a wall, he saw a hole that still had to be walled up. Suddenly he remembered the bible he had in his backpack and said to his comrades, "Watch out, I know a lot of fun. Look here, here I've got a bible, I'll hide it in this hole. "The bible went in a bit and the cover was slightly damaged:" See you, now mortar before it, "said Antonio," now I want to see if the Hell, get the Bible out! "
A few weeks later Antonio returned to his homeland over the mountains. In 1861, on the 10th and 11th of May, a big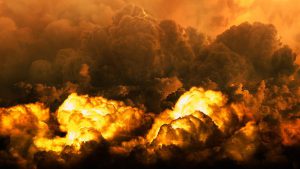 fire broke out in Glarus, 490 buildings burned down completely. The whole city was a terrible ruin, but it wanted to be rebuilt. A bricklayer from northern Italy, John by name, was commissioned to investigate a new house that had partially collapsed. He tapped his hammer here and there on one of the broken walls, and suddenly a lump of mortar fell down. To his astonishment, he found a book wedged in the wall. He pulled it out. A Bible … How did this come here? That was strange, because he had had one before; but they had taken him away. "That should not happen to me this time," he thought.
John started reading the Bible diligently in his free time; Although he did not understand everything, only the Gospels partially and the Psalms. He learned to pray from them. And it was not long before he realized that he was a sinner, but also that God loved him and that through faith in Jesus, he could receive forgiveness of sins. When he was in the fall When he returned home and to his family, he recounted his salvation with great joy wherever he went. In his spare time he went to the surrounding villages with a suitcase full of Bibles, to receive the Good News from Jesus the Savior spread.
So he came to the area where Antonio lived. At a fair he built a stand with Bibles. As Antonio strolled by, he stopped and said, "Oh, Bibles, I do not need them! All I have to do is go to Glarus, because I have one walled up in a wall, and I'm curious if the devil who can get out of it. "Johannes looked at the young man seriously. He knew everything immediately and he said, "Be careful, young man, spotting is easy, but what would you say if I showed you this Bible?" "You can not fool me," said Antonio, "I would Recognize immediately, because I marked them and I stick to it: "The devil can not get them out of the wall!"
Johannes pulled out the Bible and asked, "Do you know the sign, my friend?" Antonio was speechless at first when he saw the damaged book. But the devil did not do that, but God did it, so that you can see that he lives and he wants to save you too. "Now the old hatred that Antonio had for God broke out. His conscience talked, but he cried out to his comrades: "Come here, what this pious fellow is looking for here with his bible shop!" In a few seconds Johannes' whole estate was torn down. He himself received good punches and the perpetrators disappeared quickly between the converged spectators.
Antonio has since become increasingly hostile to God. One day, when he had drunk too much alcohol at work, he fell off a 17-meter-high scaffold, was badly wounded, and came to the hospital. Johann learned that. He sent him a beautiful bouquet of flowers and even visited him in the hospital. But Antonio's heart remained like a stone. Every week John visited him and gradually, out of boredom, later out of interest, he began to read the Bible. Once he read in Hebrews 12:
"My son, pay no heed to the misconduct."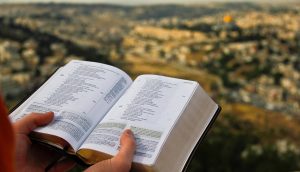 There, that suited his accident. Antonio read on, and God's Word, which can smash rocks, began to work in Antonio's heart. He learned to understand his guilt and to confess before God. But he also learned to trust in the finished work on the cross. His soul had recovered, but his hips remained lame.
He could no longer do his earlier work; but he found easier work, and later he had a happy marriage with the daughter of John. His father-in-law was also his friend at the same time. Antonio is already in the Heavenly Fatherland, but the Bible that he imbues is the most beautiful heirloom for his children.

Source: unknown
All images used by Pixabay and unplash on this website are royalty free (COO)