By Ursula Moosmann, Philippines
An invitation to a birthday is not unusual, but this ended with a miracle:
I am sitting with the 83-year-old Mila and her daughter Francia at the table and we celebrate the birthday of the elderly woman. Sadly I hear how much her family is divided. A daughter had not come home for years. They have just learned that Lolin, that is her name, is very ill. "There is no hope," they say, "the cancer is already too advanced". Mother and daughter want to see their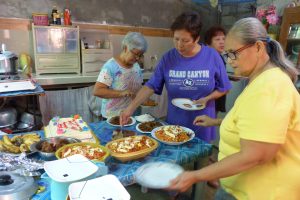 close relatives again before it comes to an end. They ask me to go and pray for Lolin.
We find Lolin asleep in the living room and wait until she wakes up. After an hour she gets upset. Nobody speaks a word. The family expects me to mediate. I take Lolin's hand and put her mother's hand in hers. Again it is very quiet. "Lolin, can you hear me?" She nods her head, too weak to speak. "Your mother has come to see you. And your sister Francia is here too, are you happy? "A nod, then she opens her eyes.
"Your brother came here to see you too. Are you glad that he is here? "Lolin nods again and begins to cry. Her teenage daughter explains that Lolin has not shown any feelings for years. I ask Mother Mila to tell her daughter Lolin what is going on in her heart. The old mom asks Lolin for forgiveness for things she has missed on her daughter and confirms how much she loves her. Then Francia's sister Lolin comes to the bed and asks for forgiveness in tears. The whole family sits weeping together.
After a break, I read to them Isaiah 53 and tell about Jesus, his wounds and pains on the cross and the power of forgiveness. "He did everything for us to settle our debt. We are healed by His wounds. Do you believe this Lolin? "Her expression changes dramatically. Something of joy and hope shines through, even with the rest of the family. Through the blood of Jesus, this afternoon reconciliation has come to a quarrelsome family: something wonderful has happened!
A few days later, I get a message that makes me cry. They tell me that Lolin is much, much better. A second miracle has happened. Thank god for that.
Picture and text: DMG, Sinsheim