Sermon on February 20, 2022

KaB FKB (Andreas Latossek)


"Monument" –
(Joshua 4)
This sermon is translated from German into English. You can find the original video here
In the last few weeks we have been on the road with Joshua entering the promised land. And we have seen that this story of the people of Israel, which actually happened, has a lot to do with our lives. I find it fascinating how much symbolism God puts into it for our lives today. And last Sunday we also got to know a prophetic dimension for the people of Israel today.
We asked ourselves which voices in our lives we listen to. That God is the encourager who believes in us and who takes us out like the people of Israel out of Egypt, out of slavery to guilt, through the desert, a life without God, into the promised land, a life in God's presence with a spiritual abundance blessing, wants to lead.
We looked at the harlot Rahab, who later appears in the list of heroes of the faith in Hebrews, that no matter how low you are or how low you feel God still loves you and still wants to use you and there is nothing too deep, too bad or anything else for him, but he wants to give you a new identity so that you too can belong.
And last week we saw the passage of the people of Israel through the Jordan a river that is not so wide and deep in dry seasons, but swells in rainy seasons, Hans-Jürgen said, from here to the roundabout to Rodenbach only water, about 1km wide, how God stops the water when the priests go in with the Ark of the Covenant, so that all the people of Israel come out dry on the other side.
We have seen that Jesus is already visible on the cross in this ark of the covenant, and that that is exactly what he did, crossed the Jordan River as the river of death, took our guilt upon himself so that if we follow him, we will dry up come the other side. The crossing of the Jordan is a symbol of baptism, in which we confess that the old is behind us and a new life begins with Jesus.
And now it is before us, the promised land. A land where milk and honey flow. God chose this land for his people, and his people to be a blessing to the whole world. This land was the stage for God's plan of salvation. The Redeemer was to be born there. But the people of Israel had to conquer the land first. There would be fighting and an enemy who would object to Israel experiencing that blessing. And by that I don't mean so much the peoples who lived there, but rather the enemy of God, the devil, who objected to God's people being blessed and the ground being prepared for the Redeemer. But God had said to his people, the land is already yours, victory is already yours.
There are battles in our lives too – spiritual battles. land to be conquered. The old is gone, the new is in the making. Egypt is sometimes still in our way of thinking. distrust of God. Old Behaviors. ungodly traits. But God has blessed us with spiritual blessings.
The land is ours, with Jesus' victory on the cross, the victory in your life is yours. I can imagine what the atmosphere must have been like back then. The water stops, then the train of millions of people starts moving. At first maybe timid. But it wasn't like the water was directly in front of them like a wall, but 50km further upstream. So there was no more water to be seen far and wide. Let's go. And then the whole train arrives on the other side. What a miracle. People will have roared, cheered, danced for joy. I suppose they wanted to go straight ahead and take over the whole country. After this miracle, nothing stood in their way. But God stops them for an important lesson that is also important in our lives. He renews the covenant with his people, we'll see that next week. Today it's about a monument. Something funny happened to us while formulating. Memorial ~deutsch =Denkma(h)l~ – slipped an h in, but actually it has nothing to do with food But in the end it fits, you'll notice that.
I read the Bible text from Joshua 4:
1 And it came to pass, when all the people were clean passed over Jordan, that the LORD spake unto Joshua, saying, 2 Take you twelve men out of the people, out of every tribe a man, 3 And command ye them, saying, Take you hence out of the midst of Jordan, out of the place where the priests'feet stood firm, twelve stones, and ye shall carry them over with you, and leave them in the lodging place, where ye shall lodge this night. 4 Then Joshua called the twelve men, whom he had prepared of the children of Israel, out of every tribe a man: 5 And Joshua said unto them, Pass over before the ark of the LORD your God into the midst of Jordan, and take ye up every man of you a stone upon his shoulder, according unto the number of the tribes of the children of Israel: 6 That this may be a sign among you, that when your children ask their fathers in time to come, saying, What mean ye by these stones? 7 Then ye shall answer them, That the waters of Jordan were cut off before the ark of the covenant of the LORD; when it passed over Jordan, the waters of Jordan were cut off: and these stones shall be for a memorial unto the children of Israel for ever. 8 And the children of Israel did so as Joshua commanded, and took up twelve stones out of the midst of Jordan, as the LORD spake unto Joshua, according to the number of the tribes of the children of Israel, and carried them over with them unto the place where they lodged, and laid them down there. 9 And Joshua set up twelve stones in the midst of Jordan, in the place where the feet of the priests which bare the ark of the covenant stood: and they are there unto this day. 10 For the priests which bare the ark stood in the midst of Jordan, until every thing was finished that the LORD commanded Joshua to speak unto the people, according to all that Moses commanded Joshua: and the people hasted and passed over. 11 And it came to pass, when all the people were clean passed over, that the ark of the LORD passed over, and the priests, in the presence of the people. 12 And the children of Reuben, and the children of Gad, and half the tribe of Manasseh, passed over armed before the children of Israel, as Moses spake unto them: 13 About forty thousand prepared for war passed over before the LORD unto battle, to the plains of Jericho. 14 On that day the LORD magnified Joshua in the sight of all Israel; and they feared him, as they feared Moses, all the days of his life. 15 And the LORD spake unto Joshua, saying, 16 Command the priests that bear the ark of the testimony, that they come up out of Jordan. 17 Joshua therefore commanded the priests, saying, Come ye up out of Jordan. 18 And it came to pass, when the priests that bare the ark of the covenant of the LORD were come up out of the midst of Jordan, and the soles of the priests'feet were lifted up unto the dry land, that the waters of Jordan returned unto their place, and flowed over all his banks, as they did before. 19 And the people came up out of Jordan on the tenth day of the first month, and encamped in Gilgal, in the east border of Jericho. 20 And those twelve stones, which they took out of Jordan, did Joshua pitch in Gilgal. 21 And he spake unto the children of Israel, saying, When your children shall ask their fathers in time to come, saying, What mean these stones? 22 Then ye shall let your children know, saying, Israel came over this Jordan on dry land. 23 For the LORD your God dried up the waters of Jordan from before you, until ye were passed over, as the LORD your God did to the Red sea, which he dried up from before us, until we were gone over: 24 That all the people of the earth might know the hand of the LORD, that it is mighty: that ye might fear the LORD your God for ever.
Probably the most well-known monument in northern Hesse is the Hercules in Kassel.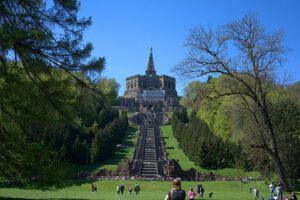 Although that's actually nonsense, because Hercules is a legendary figure. There are other monuments like the Kaiser Wilhelm monument in Porta Westfalica near Minden where there really is history behind it. But we also have a memorial in Frankenberg matching our series, the lion. Who knows where that is? This is a fatherland monument in memory of those who died in the Franco-Prussian War of 1870/1871. And the many small stumbling blocks that commemorate the people who were killed during the Nazi era are also something of a memorial.
The people of Israel are to bring 12 stones out of the Jordan, and not from anywhere, but from the place where the Ark of the Covenant was, because they should not remind of a general passage, but of what God had done. Of course, this is not such a beautiful monument as Hercules.
I once thought about how such a monument could look like.
The world record for super heavyweight weightlifting was set by Georgia's Lasha Talakhadze with a snatch of 227 kg and a clean and jerk of 267 kg.
But that is a weight that someone can only hold for a short time.
Then I came across this: The Unspunnensteinstossen in Switzerland. Every year there is a competition in which a 83.5 kg stone is thrown.  Incidentally, the record is 4.11m. 
Let's do it at the next community festival, right? Unfortunately, the stone has also been stolen several times. So if you can carry it and push it like that, maybe that's a category of stones that the Israelites used to collect. This stone is the size of a banana box

(holds up a large rock)

. If the stones are stacked well, the monument will have had a size of perhaps just under 2m.
What is the meaning of this memorial and why is it also good for us to create a memorial for important events in our lives:
Reminder
The word memorial is in Germany language made up of the words think and times. Whenever we see a monument, that monument reminds us of an event from the past.
You may have heard of John who has a poor memory. One day he meets his friend whom he has not seen for a long time. "Hey Bill, do you remember what a bad memory I had?"
"Yes, of course, I haven't forgotten that, but my name isn't…"
"Bill, it's not bad anymore. I went to a seminar where they taught us to remember and now I have a wonderful memory."
"Great, what was the name of the seminar?"
"By the way, my name is not… Wait a moment, my wife was there too, I'll ask her." John turns and turns back and asks: "Bill, what's the name of this flower here?"
"Do you mean the rose?" "Yes thanks", John replies: "Rosie, what was the name of the seminar we went to again?"
Unfortunately, it is often the case that we forget a lot very quickly or the memories fade more and more. During the quarantine we looked at some pictures from our last years as a family and remembered one or the other wonderful experience together. A while back I was looking through a box of memories from my childhood. Suddenly I had pictures of what I played and made as a child as if it were yesterday, but I had completely forgotten it.
The rainbow is a memorial reminding us that God is there and until the day the earth passes, sun and rain, seed and harvest will not cease. God gives His people a structure of various festivals throughout the year to remind the people of what God has done.
And in the same way, Christmas, Easter, Ascension Day and Pentecost remind us of what God has done.
The cross is a monument that reminds us of Jesus' vicarious death.
Our baptism is a memorial that we belong to God's family and have accepted His gift to belong to Him and have our sins forgiven. Jesus institutes the Lord's Supper, and here we are at the h of the memorial, so that we can remember his death, his resurrection, his forgiveness and the covenant he made with us.
Personal memorials can remind us of experiences we had with God. For example, a boomerang that I brought with me from Australia reminds me of an important time in Australia and a lot of what I experienced there with God. Some have a prayer corner with personal symbols, others a prayer journal with answered prayers where God has taken care of them, healed them, kept them. Others have a book of important Bible verses through which God spoke to them.
What situations are there in your life where God has worked and what memorials do you have in your life, or maybe it makes sense to think about which ones you can put up to remind you of it in the future. Remembrance breeds gratitude. And that is the 2nd sense of a monument:
Gratitude
Not only that, according to various studies, gratitude is the root of health and well-being, that gratitude reduces physical symptoms such as stomach or headaches, dizziness or muscle tension and is beneficial for the health of heart patients, that grateful people have to go to the doctor less and sleep better, that gratitude is good against envy and anger, that it entails creativity, better social integration and resilience and that grateful people are more optimistic, have more zest for life and make greater progress towards achieving important goals.
I believe that God knows how good gratitude is for us and therefore he ordains it for us, but it has another effect:

6 Be careful for nothing; but in every thing by prayer and supplication with thanksgiving let your requests be made known unto God. 7 And the peace of God, which passeth all understanding, shall keep your hearts and minds through Christ Jesus. (

Philippians

4, 6-7)

At the same time, when we remember what God has done and we are grateful for it, it causes God's peace to flow through us, especially when we are challenged and the situation around us does not promise much peace. I once mentioned this as the 3rd sense of a monument:
Trust
We forget the victories that God has given us in our lives.
We forget the blessings He has given us.
We forget the miracles that God has already done.
But if God has done it before, He will do it again.
If he saved you before, he will save you again.
If it was there when you needed it before, it will be there again.
His character doesn't change.
His grace does not change.
His promises don't change.
His arm isn't too short to help. God is the God of heaven and earth. This monument is proof that God did it. He can do it again! God is the same yesterday, today and forever. And so the people of Israel always go back to this camp where the monument stands in the conquest of the promised land, to remember before each new challenge: Yes, God has done a miracle before, he will be with us now and help us. The Bible is also such a good monument that we should keep coming back to: Let's hear what it says here:
For whatsoever things were written aforetime were written for our learning, that we through patience and comfort of the scriptures might have hope.
Because that is the 4th sense of this monument:
Reverence – taking God seriously
Just before Moses dies, he calls all the people together and tells them the following, among other things:
Deuteronomy 6:10-13, 18 10 And it shall be, when the LORD thy God shall have brought thee into the land which he sware unto thy fathers, to Abraham, to Isaac, and to Jacob, to give thee great and goodly cities, which thou buildedst not, 11 And houses full of all good things , which thou filledst not, and wells digged, which thou diggedst not, vineyards and olive trees, which thou plantedst not; when thou shalt have eaten and be full; 12 Then beware lest thou forget the LORD, which brought thee forth out of the land of Egypt, from the house of bondage. 13 Thou shalt fear the LORD thy God, and serve him, and shalt swear by his name.

A memorial that reminds us of what God has done and shows us how great and powerful God is, should also remind us to respect that God and to take Him seriously in what He tells us. Even if we don't understand everything many a supposed detour has already turned out to be exactly right even if we don't like everything some things contradict today's social thinking and acting God's word and how it speaks into our situations gives us guidance and direction for a successful life. The people of Israel will experience just that. Wherever they don't take God's Word so seriously, they experience defeats when taking the land. Wherever they turn to God, listen to him and put into practice what he says, they sometimes achieve grandiose victories. We will see that further on. And that's how it is in our life too. Therefore, a monument should remind us to take God seriously in everything He says.
The memorial also means that, as it translates the Gospel: You yourselves shall honor the LORD your God for what he has done forever and ever So the 5th sense of a monument is:
Worship
That we should be to the praise of his glory, who first trusted in Christ. (

Ephesians 1:12

).
Worship encompasses our whole life. Our whole life should bring glory to God. This is closely related to the last point, taking God seriously in our lives and living as He says and doing what He says. And there is a battle for your worship. Every human being was created to worship. Worship is not just some peripheral issue of the Christian faith, it is the central issue. Every human being worships something. The only question is what. In some countries this question is quite obvious, where people are being persecuted for beliefs that are wrong in the eyes of those in power. But it's different with us. Not so obvious.
What did Jesus look like: I will give you all this if you kneel down in front of me and worship me, the devil says to him when Jesus is tempted in the desert. Isn't that exactly what we're being fooled into doing? That we are promised something. Bet on me, then you will be happy? Then you are safe. Then…
That things are more important to us than God himself and determine how we live.
We then are no longer able to hear what God wants from us and we find any excuses.
A memorial reminds us that it is God who deserves our worship.
And that when we come together here in worship, God also deserves that we worship him with our voice. No matter how beautiful we find them. It does not matter. And it doesn't matter if we think the songs are beautiful. It's about pleasing God. It is an attitude of the heart whether we also want to praise God with songs. Because he's worth it and deserves it.
In Revelation we get a glimpse of what it will look like when billions of people will worship him because they cannot remain silent. But Jesus also says about his followers: If they keep silent, the stones will cry out. I don't want a dead monument to end up screaming louder than my life to give glory to God. And that brings us to the 6th and last meaning of a monument:
It is a transcript.
We read twice in our text: If your children, if your descendants later ask you what these stones mean, then tell them about it. We read in the Bible that we, as parents, have the task of telling our children what God has done in our lives and what faith means and that, as it says elsewhere, not only when we are asked. But some monuments invite us to talk about them with our children. The Bible goes one step further.
In Rev. 12:11 it says: And they overcame the devil by the blood of the Lamb Yes, because Jesus shed his blood so that our sins might be forgiven, but then it goes on: and by the word of their testimony.
Words have the power of life or death

, says

Proverbs 18:21

That is why we always encourage to tell each other about what we have experienced with God, no matter how small it is. Because if you tell others about it, it also helps others to win. The devil wants you to shut up because he knows your testimony has power to bring life, bring hope, bring joy and peace, healing and deliverance.
And so a monument also serves to ensure that all peoples of the earth recognize how strong the hand of the Lord is.
In the story of Joshua we read at the beginning of chapter 5, All the kings of the Amorites west of the Jordan and all the kings of the Canaanites on the shore of the Mediterranean heard of the Lord drying up the Jordan until the people of Israel had passed through. Then the fear of the Israelites seized them and they lost all courage. That was the special historical situation.
But today there is no need to fear God, for He is a gracious and forgiving God, and to whom anyone can turn and accept the gift of His forgiveness. And our life and what God has done in our life should be a testimony that points to him. This is how the Israelites build this monument that God ordained.
If you pay close attention, you will notice that Joshua is building a second monument in the middle of the Jordan, where the priests with the ark stood. Not one that God had ordained, but one that was still there when the story of the conquest was written.
Covered by water part of the time and visible during dry seasons similar to the ruins in the Edersee which keep coming out reminding us of the history of the villages. But even if we don't see them, we know the ruins are there.
Why is Joshua doing this? I believe that Josua wants to build his own personal memorial. His memorial of remembrance, thanksgiving, trust, reverence, worship and testimony. Sometimes it's good when you, as a large group, as a community, have experienced something, to consciously build your own monument. But I also believe that this monument had another meaning, especially for Joshua. For God had appointed him to be the leader. He had told him that he would stand by him. And that situation was the first where God showed that it wasn't just words. The first situation for Joshua was to step out of the shadow of Moses, to be strong and courageous. Thus we read: On that day the Lord caused all Israel to respect Joshua. The people now had the same respect for him as formerly for Moses; and so it remained throughout his life. Sometimes, especially as a leader, you need your own memorial. a monument to your calling, a monument to God's affirmation.
I want to ask you this morning: What experiences with God have you had in your life? What monuments has God placed in your life Or how can you build a monument for remembrance, for thanksgiving, for increasing your confidence, for reverence for taking God seriously, for worship and testimony for him? Maybe it's your turn to make the cross your personal memorial, invite Jesus into your life and accept the forgiveness of your sins.
Perhaps it's time to erect the monument of baptism in your life this year, showing the outside world that you belong with Jesus. Perhaps you are remembering an experience that encourages you to face the challenge anew and to trust in God's help and intervention on your way to claiming your promised land. Think about it and talk to God about it during the next songs that we want to do to honor him.