Christmas, Good Friday and Easter are considered the highest holidays for Christians.
Jesus was crucified by the Romans on Good Friday. He had previously announced this himself several times (e.g. Mark 8:31:
And he began to teach them, that the Son of man must suffer many things, and be rejected of the elders, and of the chief priests, and scribes, and be killed, and after three days rise again.
This was also predicted again and again in the writings of the Old Testament, from Genesis 3:15 through the Psalms to the prophet Zechariah (12:10).
Jesus has repeatedly claimed of himself to be the Son of God, whom his Father in heaven sent to give us humans access to God, the Father.
With his whole life he affirmed this claim and this was confirmed twice by God himself (at the baptism in the Jordan and in the presence of the apostles Peter, James and John on the "Mount of Transfiguration").
Before his execution, Jesus said again and again that no one could take his life away from him, but that he himself will voluntarily give it up so that we don't have to bear our guilt ourselves, because God's Word says: Psalm 14: 2-3:
2 The LORD looked down from heaven upon the children of men, to see if there were any that did understand, and seek God. 3 They are all gone aside, they are all together become filthy: there is none that doeth good, no, not one.
John the Baptist said to the Pharisees and Saduzaeans who came to him: (Matthew 3 analogously) "… who made you sure that you will escape the future wrath of God? Watch, turn around and repent (repent of your wrong ones
Way of life) otherwise you will not escape God's judgment. "
God does not allow "all five to be straight" as many believe, but, according to John 3:16:
16 For God so loved the world, that he gave his only begotten Son, that whosoever believeth in him should not perish, but have everlasting life.
Everyone can replace the word world1 with his own name. That is why Jesus volunteered (1) to be crucified so that we could live with Heavenly Father forever. He offers it to everyone who believes that. But only he can offer that and that was confirmed by God himself through Jesus' resurrection from the dead at Easter. In Jesus God let himself be crucified, as much as this is unthinkable for us humans. At that time,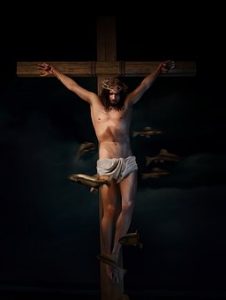 however, you could also tell from the effects on the environment. The Evangelist Mark reports that the curtain in the temple was torn from top to bottom during the hour of the temple sacrifice, that is the hour of Jesus' death. This curtain separated the room in which the ark of the covenant, the symbol of God's presence, was (and which the high priest was only allowed to enter once a year) from the sacred area in which the table with the showbread and the candlestick stood. If a person had torn the curtain, it would have happened from the bottom up and not the other way around. In addition, no one would have
dared to do so, since access to the Holy of Holies was forbidden by God himself under threat of immediate death. Matthew and Mark also report:

"And the earth trembled and the rocks were torn apart, and the graves were opened and many bodies of the fallen saints rose and went out of the graves after his resurrection and came into the holy city and appeared to many. But as the centurion and those with him

Jesus guarded the earthquake and saw what happened there, they were very frightened and said: Verily, this was the Son of God! "



The evangelist Luke reports of a darkness from 12 to 3 p.m. over the whole country and the sun lost its light. This eclipse was registered even in Egypt. In letters under the name of Dionysius Areopagita, the author claims that he observed a solar eclipse from Heliopolis at the time of the crucifixion. This Dionysius (Acts 17.34) came from Athens and is said to have received a classical Greek upbringing. He studied astronomy in Heliopolis, where he and his friend Apollophonus are said to have witnessed the solar eclipse * at the time of Jesus' death. He is said to have said during the darkness: "Either the creator of the whole world is suffering now or the visible world is coming to an end." (Early Christian texts, Wikipedia) *
It cannot have been a "normal" solar eclipse, as this cannot take place when the moon is full (it is also said to have been pitch dark so that the stars in the sky could be seen); Pessah / Easter is always around the time of the first full moon in spring.
7 Then came the day of unleavened bread, when the passover must be killed.
8 And he sent Peter and John, saying, Go and prepare us the passover, that we may eat.
9 And they said unto him, Where wilt thou that we prepare?
10 And he said unto them, Behold, when ye are entered into the city, there shall a man meet you, bearing a pitcher of water; follow him into the house where he entereth in.
11 And ye shall say unto the goodman of the house, The Master saith unto thee, Where is the guestchamber, where I shall eat the passover with my disciples?
12 And he shall shew you a large upper room furnished: there make ready.
13 And they went, and found as he had said unto them: and they made ready the passover.
14 And when the hour was come, he sat down, and the twelve apostles with him.
15 And he said unto them, With desire I have desired to eat this passover with you before I suffer:
16 For I say unto you, I will not any more eat thereof, until it be fulfilled in the kingdom of God.
17 And he took the cup, and gave thanks, and said, Take this, and divide it among yourselves:
18 For I say unto you, I will not drink of the fruit of the vine, until the kingdom of God shall come.
19 And he took bread, and gave thanks, and brake it, and gave unto them, saying, This is my body which is given for you: this do in remembrance of me.
20 Likewise also the cup after supper, saying, This cup is the new testament in my blood, which is shed for you.
21 But, behold, the hand of him that betrayeth me is with me on the table.
22 And truly the Son of man goeth, as it was determined: but woe unto that man by whom he is betrayed!
23 And they began to enquire among themselves, which of them it was that should do this thing.
39 And he came out, and went, as he was wont, to the mount of Olives; and his disciples also followed him.
40 And when he was at the place, he said unto them, Pray that ye enter not into temptation.
41 And he was withdrawn from them about a stone's cast, and kneeled down, and prayed,
42 Saying, Father, if thou be willing, remove this cup from me: nevertheless not my will, but thine, be done.
43 And there appeared an angel unto him from heaven, strengthening him.
44 And being in an agony he prayed more earnestly: and his sweat was as it were great drops of blood falling down to the ground.
45 And when he rose up from prayer, and was come to his disciples, he found them sleeping for sorrow,
46 And said unto them, Why sleep ye? rise and pray, lest ye enter into temptation.
47 And while he yet spake, behold a multitude, and he that was called Judas, one of the twelve, went before them, and drew near unto Jesus to kiss him.
48 But Jesus said unto him, Judas, betrayest thou the Son of man with a kiss?
49 When they which were about him saw what would follow, they said unto him, Lord, shall we smite with the sword?
50 And one of them smote the servant of the high priest, and cut off his right ear.
51 And Jesus answered and said, Suffer ye thus far. And he touched his ear, and healed him.
52 Then Jesus said unto the chief priests, and captains of the temple, and the elders, which were come to him, Be ye come out, as against a thief, with swords and staves?
53 When I was daily with you in the temple, ye stretched forth no hands against me: but this is your hour, and the power of darkness.
54 Then took they him, and led him, and brought him into the high priest's house. And Peter followed afar off.
55 And when they had kindled a fire in the midst of the hall, and were set down together, Peter sat down among them.
56 But a certain maid beheld him as he sat by the fire, and earnestly looked upon him, and said, This man was also with him.
57 And he denied him, saying, Woman, I know him not.
58 And after a little while another saw him, and said, Thou art also of them. And Peter said, Man, I am not.
59 And about the space of one hour after another confidently affirmed, saying, Of a truth this fellow also was with him: for he is a Galilaean.
60 And Peter said, Man, I know not what thou sayest. And immediately, while he yet spake, the cock crew.
61 And the Lord turned, and looked upon Peter. And Peter remembered the word of the Lord, how he had said unto him, Before the cock crow, thou shalt deny me thrice.
62 And Peter went out, and wept bitterly.
63 And the men that held Jesus mocked him, and smote him.
64 And when they had blindfolded him, they struck him on the face, and asked him, saying, Prophesy, who is it that smote thee?
65 And many other things blasphemously spake they against him.
66 And as soon as it was day, the elders of the people and the chief priests and the scribes came together, and led him into their council, saying,
67 Art thou the Christ? tell us. And he said unto them, If I tell you, ye will not believe:
68 And if I also ask you, ye will not answer me, nor let me go.
69 Hereafter shall the Son of man sit on the right hand of the power of God.
70 Then said they all, Art thou then the Son of God? And he said unto them, Ye say that I am.
71 And they said, What need we any further witness? for we ourselves have heard of his own mouth.
Jesus interrogated before Pilate
John 18
28 Then led they Jesus from Caiaphas unto the hall of judgment: and it was early; and they themselves went not into the judgment hall, lest they should be defiled; but that they might eat the passover.
(Matthew 27,19🙂 When he was set down on the judgment seat, his wife sent unto him, saying, Have thou nothing to do with that just man: for I have suffered many things this day in a dream because of him.
29 Pilate then went out unto them, and said, What accusation bring ye against this man?
30 They answered and said unto him, If he were not a malefactor, we would not have delivered him up unto thee.
31 Then said Pilate unto them, Take ye him, and judge him according to your law. The Jews therefore said unto him, It is not lawful for us to put any man to death:
32 That the saying of Jesus might be fulfilled, which he spake, signifying what death he should die.
33 Then Pilate entered into the judgment hall again, and called Jesus, and said unto him, Art thou the King of the Jews?
34 Jesus answered him, Sayest thou this thing of thyself, or did others tell it thee of me?
35 Pilate answered, Am I a Jew? Thine own nation and the chief priests have delivered thee unto me: what hast thou done?
36 Jesus answered, My kingdom is not of this world: if my kingdom were of this world, then would my servants fight, that I should not be delivered to the Jews: but now is my kingdom not from hence.
37 Pilate therefore said unto him, Art thou a king then? Jesus answered, Thou sayest that I am a king. To this end was I born, and for this cause came I into the world, that I should bear witness unto the truth. Every one that is of the truth heareth my voice.
38 Pilate saith unto him, What is truth? And when he had said this, he went out again unto the Jews, and saith unto them, I find in him no fault at all.
39 But ye have a custom, that I should release unto you one at the passover: will ye therefore that I release unto you the King of the Jews?
40 Then cried they all again, saying, Not this man, but Barabbas. Now Barabbas was a robber.
Jesus' flagellation and mockery
John 19
1 Then Pilate therefore took Jesus, and scourged him.
2 And the soldiers platted a crown of thorns, and put it on his head, and they put on him a purple robe,
3 And said, Hail, King of the Jews! and they smote him with their hands.
4 Pilate therefore went forth again, and saith unto them, Behold, I bring him forth to you, that ye may know that I find no fault in him.
5 Then came Jesus forth, wearing the crown of thorns, and the purple robe. And Pilate saith unto them, Behold the man!
6 When the chief priests therefore and officers saw him, they cried out, saying, Crucify him, crucify him. Pilate saith unto them, Take ye him, and crucify him: for I find no fault in him.
7 The Jews answered him, We have a law, and by our law he ought to die, because he made himself the Son of God.
8 When Pilate therefore heard that saying, he was the more afraid;
9 And went again into the judgment hall, and saith unto Jesus, Whence art thou? But Jesus gave him no answer.
10 Then saith Pilate unto him, Speakest thou not unto me? knowest thou not that I have power to crucify thee, and have power to release thee?
11 Jesus answered, Thou couldest have no power at all against me, except it were given thee from above: therefore he that delivered me unto thee hath the greater sin.
12 And from thenceforth Pilate sought to release him: but the Jews cried out, saying, If thou let this man go, thou art not Caesar's friend: whosoever maketh himself a king speaketh against Caesar.
13 When Pilate therefore heard that saying, he brought Jesus forth, and sat down in the judgment seat in a place that is called the Pavement, but in the Hebrew, Gabbatha.
14 And it was the preparation of the passover, and about the sixth hour: and he saith unto the Jews, Behold your King!
15 But they cried out, Away with him, away with him, crucify him. Pilate saith unto them, Shall I crucify your King? The chief priests answered, We have no king but Caesar.
16 Then delivered he him therefore unto them to be crucified. And they took Jesus, and led him away.
Jesus' crucifixion and death
17 And he bearing his cross went forth into a place called the place of a skull, which is called in the Hebrew Golgotha:
18 Where they crucified him, and two others with him, on either side one, and Jesus in the midst.
19 And Pilate wrote a title, and put it on the cross. And the writing was, JESUS OF NAZARETH THE KING OF THE JEWS.
20 This title then read many of the Jews: for the place where Jesus was crucified was nigh to the city: and it was written in Hebrew, and Greek, and Latin.
21 Then said the chief priests of the Jews to Pilate, Write not, The King of the Jews; but that he said, I am King of the Jews.
22 Pilate answered, What I have written I have written.
23 Then the soldiers, when they had crucified Jesus, took his garments, and made four parts, to every soldier a part; and also his coat: now the coat was without seam, woven from the top throughout.
24 They said therefore among themselves, Let us not rend it, but cast lots for it, whose it shall be: that the scripture might be fulfilled, which saith, They parted my raiment among them, and for my vesture they did cast lots. These things therefore the soldiers did.
Matthew 27
38 Then were there two thieves crucified with him, one on the right hand, and another on the left.
39 And they that passed by reviled him, wagging their heads,
40 And saying, Thou that destroyest the temple, and buildest it in three days, save thyself. If thou be the Son of God, come down from the cross.
41 Likewise also the chief priests mocking him, with the scribes and elders, said,
42 He saved others; himself he cannot save. If he be the King of Israel, let him now come down from the cross, and we will believe him.
43 He trusted in God; let him deliver him now, if he will have him: for he said, I am the Son of God.
44 The thieves also, which were crucified with him, cast the same in his teeth.
45 Now from the sixth hour there was darkness over all the land unto the ninth hour.
46 And about the ninth hour Jesus cried with a loud voice, saying, Eli, Eli, lama sabachthani? that is to say, My God, my God, why hast thou forsaken me?
47 Some of them that stood there, when they heard that, said, This man calleth for Elias.
48 And straightway one of them ran, and took a spunge, and filled it with vinegar, and put it on a reed, and gave him to drink.
49 The rest said, Let be, let us see whether Elias will come to save him.
50 Jesus, when he had cried again with a loud voice, yielded up the ghost.
51 And, behold, the veil of the temple was rent in twain from the top to the bottom; and the earth did quake, and the rocks rent;
52 And the graves were opened; and many bodies of the saints which slept arose,
53 And came out of the graves after his resurrection, and went into the holy city, and appeared unto many.
54 Now when the centurion, and they that were with him, watching Jesus, saw the earthquake, and those things that were done, they feared greatly, saying, Truly this was the Son of God.
55 And many women were there beholding afar off, which followed Jesus from Galilee, ministering unto him:
56 Among which was Mary Magdalene, and Mary the mother of James and Joses, and the mother of Zebedee's children.
John 19
32 Then came the soldiers, and brake the legs of the first, and of the other which was crucified with him.
33 But when they came to Jesus, and saw that he was dead already, they brake not his legs:
34 But one of the soldiers with a spear pierced his side, and forthwith came there out blood and water.
35 And he that saw it bare record, and his record is true: and he knoweth that he saith true, that ye might believe.
36 For these things were done, that the scripture should be fulfilled, A bone of him shall not be broken.
37 And again another scripture saith, They shall look on him whom they pierced.
38 And after this Joseph of Arimathaea, being a disciple of Jesus, but secretly for fear of the Jews, besought Pilate that he might take away the body of Jesus: and Pilate gave him leave. He came therefore, and took the body of Jesus.
39 And there came also Nicodemus, which at the first came to Jesus by night, and brought a mixture of myrrh and aloes, about an hundred pound weight.
40 Then took they the body of Jesus, and wound it in linen clothes with the spices, as the manner of the Jews is to bury.
41 Now in the place where he was crucified there was a garden; and in the garden a new sepulchre, wherein was never man yet laid.
42 There laid they Jesus therefore because of the Jews' preparation day; for the sepulchre was nigh at hand.
---
1. That Jesus willingly went to the cross can be seen from several incidents in connection with the crucifixion. For example, Jesus was the sovereign acting Lord when he was captured. When the servants of the high priests answered Jesus' question whom they were looking for: "Jesus of Nazareth" he replied: "It's me". At this answer they were so shocked that they backed away and fell to the ground (Joh. 18, 6-7) When he then commanded: "If you are looking for me, let them go!" (Meant his disciples) there they obeyed immediately! This is also clear in other places, such as during his interrogation (John 19: 8; Matthew 27:19, etc.).
All images used by Pixabay and unplash on this website are license-free (COO)