Christmas, Good Friday and Easter are considered the highest holidays for Christians.
At Easter, Christians celebrate the resurrection of their Lord Jesus Christ. This event has been heralded by prophets over and over again over many centuries. At first only very vaguely but then more and more clearly until Jesus himself spoke of this to his disciples (e.g. Psalm 16, 10; Matt. 16, 21; Luke 24, 46; and many more).
Through the resurrection of Jesus Christ, God our Heavenly Father officially confirmed and put into effect Jesus' work of redemption. From now on everyone can come to God and say Father to him, who believes in Jesus as the Son and Savior sent by God and accepts him as his personal Lord and follows him, i.e. trusts him and resolves to do what he says. This includes a lively relationship with him to even know what he is saying. The fact that Jesus was really risen is doubted again and again, but anyone who believes Jesus and takes him at his word can experience that. In the time between Easter and Pentecost (the outpouring of the Holy Spirit and thus the hour of birth of the church) Jesus repeatedly met his disciples in person. All the gospels report on it. Paul also testifies to this in 1 Corinthians 15. The resurrection of Jesus is the best attested event in world history (see Did Jesus rise from the dead?) And even today there are always people whom Jesus actually met in person . I myself had a similar experience. I invite you to entrust your life to this Jesus. Once you've done this seriously, you never want anything else. He starts a new life through the power of God.
To the Bible text:
Jesus' resurrection
Luke 24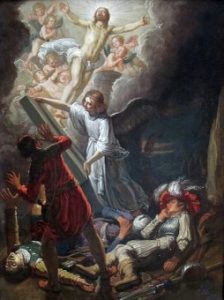 1 Now upon the first day of the week, very early in the morning, they came unto the sepulchre, bringing the spices which they had prepared, and certain others with them.
2 And they found the stone rolled away from the sepulchre.
3 And they entered in, and found not the body of the Lord Jesus.
4 And it came to pass, as they were much perplexed thereabout, behold, two men stood by them in shining garments:
5 And as they were afraid, and bowed down their faces to the earth, they said unto them, Why seek ye the living among the dead?
6 He is not here, but is risen: remember how he spake unto you when he was yet in Galilee,
7 Saying, The Son of man must be delivered into the hands of sinful men, and be crucified, and the third day rise again.
8 And they remembered his words,
9 And returned from the sepulchre, and told all these things unto the eleven, and to all the rest.
10 It was Mary Magdalene, and Joanna, and Mary the mother of James, and other women that were with them, which told these things unto the apostles.
11 And their words seemed to them as idle tales, and they believed them not.
12 Then arose Peter, and ran unto the sepulchre; and stooping down, he beheld the linen clothes laid by themselves, and departed, wondering in himself at that which was come to pass.
Maria von Magdala
John 20
11 But Mary stood without at the sepulchre weeping: and as she wept, she stooped down, and looked into the sepulchre,
12 And seeth two angels in white sitting, the one at the head, and the other at the feet, where the body of Jesus had lain.
13 And they say unto her, Woman, why weepest thou? She saith unto them, Because they have taken away my Lord, and I know not where they have laid him.
14 And when she had thus said, she turned herself back, and saw Jesus standing, and knew not that it was Jesus.
15 Jesus saith unto her, Woman, why weepest thou? whom seekest thou? She, supposing him to be the gardener, saith unto him, Sir, if thou have borne him hence, tell me where thou hast laid him, and I will take him away.
16 Jesus saith unto her, Mary. She turned herself, and saith unto him, Rabboni; which is to say, Master.
17 Jesus saith unto her, Touch me not; for I am not yet ascended to my Father: but go to my brethren, and say unto them, I ascend unto my Father, and your Father; and to my God, and your God.
18 Mary Magdalene came and told the disciples that she had seen the Lord, and that he had spoken these things unto her.
The authority of the disciples
19 Then the same day at evening, being the first day of the week, when the doors were shut where the disciples were assembled for fear of the Jews, came Jesus and stood in the midst, and saith unto them, Peace be unto you.
20 And when he had so said, he shewed unto them his hands and his side. Then were the disciples glad, when they saw the Lord.
21 Then said Jesus to them again, Peace be unto you: as my Father hath sent me, even so send I you.
22 And when he had said this, he breathed on them, and saith unto them, Receive ye the Holy Ghost:
23 Whose soever sins ye remit, they are remitted unto them; and whose soever sins ye retain, they are retained.
Thomas
24 But Thomas, one of the twelve, called Didymus, was not with them when Jesus came.
25 The other disciples therefore said unto him, We have seen the Lord. But he said unto them, Except I shall see in his hands the print of the nails, and put my finger into the print of the nails, and thrust my hand into his side, I will not believe.
26 And after eight days again his disciples were within, and Thomas with them: then came Jesus, the doors being shut, and stood in the midst, and said, Peace be unto you.
27 Then saith he to Thomas, reach hither thy finger, and behold my hands; and reach hither thy hand, and thrust it into my side: and be not faithless, but believing.
28 And Thomas answered and said unto him, My Lord and my God.
29 Jesus saith unto him, Thomas, because thou hast seen me, thou hast believed: blessed are they that have not seen, and yet have believed.
30 And many other signs truly did Jesus in the presence of his disciples, which are not written in this book:
31 But these are written, that ye might believe that Jesus is the Christ, the Son of God; and that believing ye might have life through his name.
1 In the end of the sabbath, as it began to dawn toward the first day of the week, came Mary Magdalene and the other Mary to see the sepulchre.
2 And, behold, there was a great earthquake: for the angel of the Lord descended from heaven, and came and rolled back the stone from the door, and sat upon it.
3 His countenance was like lightning, and his raiment white as snow:
4 And for fear of him the keepers did shake, and became as dead men.
5 And the angel answered and said unto the women, Fear not ye: for I know that ye seek Jesus, which was crucified.
6 He is not here: for he is risen, as he said. Come, see the place where the Lord lay.
7 And go quickly, and tell his disciples that he is risen from the dead; and, behold, he goeth before you into Galilee; there shall ye see him: lo, I have told you.
8 And they departed quickly from the sepulchre with fear and great joy; and did run to bring his disciples word.
9 And as they went to tell his disciples, behold, Jesus met them, saying, All hail. And they came and held him by the feet, and worshipped him.
10 Then said Jesus unto them, Be not afraid: go tell my brethren that they go into Galilee, and there shall they see me.
11 Now when they were going, behold, some of the watch came into the city, and shewed unto the chief priests all the things that were done.
12 And when they were assembled with the elders, and had taken counsel, they gave large money unto the soldiers,
13 Saying, Say ye, His disciples came by night, and stole him away while we slept.
14 And if this come to the governor's ears, we will persuade him, and secure you.
15 So they took the money, and did as they were taught: and this saying is commonly reported among the Jews until this day.