Sermon on January 16, 2022

KaB FKB (Andreas Latossek)


"Blossoming with God" –
This sermon is translated from German into English. You can find the original video here
I look forward to seeing you all again. The new year is already a few weeks old, but I haven't seen many of you yet. So I wish you a happy new year.
At the beginning of the year, we always have two sermons where we pause and consciously focus on what is important in life in order to sort our priorities for the new year. And I called that first of the two sermons today:
Blossoming with God
Because that's what God wants for our lives, that we flourish with him, and I hope that's also what you want this year to flourish with God. One can approach this sermon from two sides. One is the focus: My life with God should flourish, regardless of whether it is really good right now or whether something is lying fallow. And our life with God has an impact on all areas of our lives, in our marriages, friendships, togetherness, in the workplace.
I brought you a picture of an apple harvest here.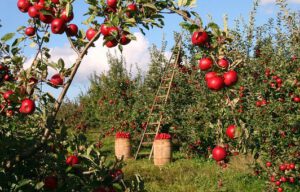 Barrels of apples Behind them are lush, green apple trees that are full of apples. And wouldn't that be such a picture for you for 2022, what you wish for. A sturdy, green, succulent tree that bears many fruits. The other side to approach this sermon from is that you say boar, it's been a really tough year for me, maybe behind all of us, not only socially, but maybe also personally. And there are things in your life where you wait for God to intervene and wonder when that will happen. Where you might doubt him.
Where you wonder if everything is right with God
Or maybe you put your faith more or less aside.
Where other things have become more important.
Where your focus has completely slipped because there is just so much going on in your life.
Where God is still there somewhere, so nice to have, but you don't actually take him seriously anymore and align your life with him.
No matter where you are right now, both perspectives are about how my life with God can actually flourish. And the second perspective also asks the question: Is it even worth it? It was a similar story for the recipients of the letter to the Hebrews, former Jews who had found faith in Jesus. They had experienced a lot of pressure and even persecution for their faith. Some disappointments. And they saw their lives compared to the pompous services and events at the Temple in Jerusalem, to the Jews, who seemed to have no problems and lived free and happily and so they asked themselves: Is it really worth it or isn't it better to go back to the old faith?
I don't think we are in danger of turning to Judaism now, but certainly in danger of no longer taking God so seriously, no longer including him as much, or turning away from him altogether. And it is very exciting what Paul writes to the Hebrews and I would like to consciously put this focus again for all of us at the beginning of this year and this is how I named my first point:
1. Jesus is worth following!
Jesus is worth following! What Paul does here throughout the letter to the Hebrews is that he once again makes it clear to the recipients the greatness of Jesus and what he has done for our lives. And I think, even though we've heard it quite often, it's important that we keep it in mind and keep it conscious.
Paul uses several comparisons here in Hebrews.
He writes that Jesus is greater than the angels,
greater than the prophets and
greater than the chief priests.
That his sacrifice is better than all temple cults and sacrifices and
that what he promises us is better than the promised land into which Joshua led the people of Israel.
These are not necessarily the benchmarks that are important for us today, which is why I tried to transfer them. Jesus is greater than the angels. Let's read how John describes him in Revelation:
12 And I turned to see the voice that spake with me. And being turned, I saw seven golden candlesticks; 13 And in the midst of the seven candlesticks one like unto the Son of man, clothed with a garment down to the foot, and girt about the paps with a golden girdle. 14 His head and his hairs were white like wool, as white as snow; and his eyes were as a flame of fire; 15 And his feet like unto fine brass, as if they burned in a furnace; and his voice as the sound of many waters. 16 And he had in his right hand seven stars: and out of his mouth went a sharp twoedged sword: and his countenance was as the sun shineth in his strength. 17 And when I saw him, I fell at his feet as dead. And he laid his right hand upon me, saying unto me, Fear not; I am the first and the last: 18 I am he that liveth, and was dead; and, behold, I am alive for evermore, Amen; and have the keys of hell and of death. (rev. 1:12-18)
Those are human words to try to describe what John is seeing. It is very important that Jesus says: Do not be afraid, I will come back to that later. When Paul writes that
Jesus is greater than the angels, here we see that he is the one through whose word the world was created. It is bigger than anything we can see looking around, than the trees, the mountains, the sun and the stars, the whole universe. He holds the world in his hands and he holds you and me in his hands too. He is greater than death, he is the first and the last. He is the king of all ages. He is the king of heaven. He is the king of glory. He is the King of kings and Lord of lords. Some worship the angels or the stars and I tell you, you don't need angels or created things, Jesus is greater. Jesus is greater than Moses and the prophets.
These were the most important people for the Jews. And I just want to transfer that to our time, when so many people are trying to influence: politicians, stars, influencers, whoever. Jesus is greater than Joe Biden, than Xi Jinping, than Elon Musk, Bill Gates, than all philosophers, theologians and founders of religions. We don't need to be afraid of them because Jesus is greater.
When Paul writes that Jesus is greater than all high priests, at that time they were those who came into the Holy of Holies, i.e. in God's presence and were allowed to represent people there, then we could apply that today to all people who act as mediators between God and people appear.
The Bible says there is no mediator needed, and there is no mediator but Jesus. He is taller: We don't need saints, we don't need Mary, we don't need a pope, we need Jesus. His sacrifice is better than all temple cults and sacrifices. Because Jesus gave his own life out of love on the cross for your sin. Only this sacrifice creates unique and final forgiveness for our guilt, and so the way to God is free. That we can have peace with him, that we can be included in his family and call him father. That we no longer require other sacrifices and devotional services to impress God. No, Jesus is the Savior of sinners.
He does not remain distant in his size, but he comes close to us, and he is close to us now and also in your situation. And what he promises us is better than the promised land into which Joshua led the people of Israel. Because he promises us eternal life after our death and fulfilled life in his presence already now.
If we look at all this, dear ones, then we come back to the sentence that we heard two weeks ago in connection with the motto of the year, namely that despite all the challenges, doubts, difficult situations and everything else that may irritate us, chasing after that Jesus is really worth following. When Jesus asks his disciples because many people have left him because they had imagined things differently with him, they answer:
"Lord, to whom should we go? Only you have words of eternal life." John 6:68
At the beginning of this new year, we must consciously remind ourselves of this. Only Jesus has the words of eternal life. He is worth following. Even if we don't understand everything, even if things don't always go well for us, but he's worth sticking with him for. And I would like to give you a very short time to think about where things have crept in with you in the last year so that Jesus no longer has this priority. Maybe that's also a good way to say to him quietly, yes you are worth following, also this year. Or if you haven't already, invite him: Yes Jesus, you are worth it, I would like to follow you and invite you into my life, this morning.
Now we were at the beginning with the picture of these juicy apple trees full of apples and I would like to read us two Bible texts about it, because now we want to look at what Paul, Jesus and David write about how our life can flourish, what we should value and what they encourage us to do in this year 2022:
1 Blessed is the man that walketh not in the counsel of the ungodly, nor standeth in the way of sinners, nor sitteth in the seat of the scornful. 2 But his delight is in the law of the LORD; and in his law doth he meditate day and night. 3 And he shall be like a tree planted by the rivers of water, that bringeth forth his fruit in his season; his leaf also shall not wither; and whatsoever he doeth shall prosper.
Psalm 1:2-3
"

1 I am the true vine, and my Father is the husbandman.

2 Every branch in me that beareth not fruit he taketh away: and every branch that beareth fruit, he purgeth it, that it may bring forth more fruit.

3 Now ye are clean through the word which I have spoken unto you.

4 Abide in me, and I in you. As the branch cannot bear fruit of itself, except it abide in the vine; no more can ye, except ye abide in me.

5 I am the vine, ye are the branches: He that abideth in me, and I in him, the same bringeth forth much fruit: for without me ye can do nothing. "As the Father loved me, so have I loved you. stay in my love If you keep my commandments, you will remain in my love, just as I have always kept my father's commandments and remain in his love. I tell you this so that my joy may fill you and your joy may be complete. Love one another as I have loved you; this is my bid. John"
"9 As the Father hath loved me, so have I loved you: continue ye in my love. 10 If ye keep my commandments, ye shall abide in my love; even as I have kept my Father's commandments, and abide in his love. 11 These things have I spoken unto you, that my joy might remain in you, and that your joy might be full. 12 This is my commandment, That ye love one another, as I have loved you.

(15:1-5 and 9-12)
How can you blossom with God?
2. Let God speak
David compares us humans to a tree by the water, Jesus with the branches on a vine. I also brought a picture with me and the important thing about this tree is its deep roots.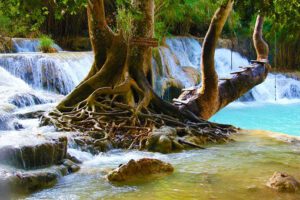 It took years for them to grow like this. But through them, the water gets into the tree with all the nutrients and it gives the tree a stable foundation even in storms.
If we stay close to Jesus, if we live in relationship with him, if we let him speak through his word the bible in our lives, then everything we need to live will flow and we will grow and bear fruit. The Epistel to the Romans says that Abraham remained strong in faith as he looked to God's promise. A missionary, I quoted it in the teen group on Friday, said:
The more Jesus, the more joy and fearlessness I experience in my life, the less Jesus, the more I worry and fear.
And we can extend that to many areas in our lives. When Jesus shapes us and his word stays with us, when we don't let this connection slip, good fruits come into being. Paul writes to the Hebrews:
12 For the word of God is quick, and powerful, and sharper than any twoedged sword, piercing even to the dividing asunder of soul and spirit, and of the joints and marrow, and is a discerner of the thoughts and intents of the heart. 13 Neither is there any creature that is not manifest in his sight: but all things are naked and opened unto the eyes of him with whom we have to do. 14 Seeing then that we have a great high priest, that is passed into the heavens, Jesus the Son of God, let us hold fast our profession. 15 For we have not an high priest which cannot be touched with the feeling of our infirmities; but was in all points tempted like as we are, yet without sin. 16 Let us therefore come boldly unto the throne of grace, that we may obtain mercy, and find grace to help in time of need. (Hebrews 4: 12-16)

There's that double-edged sword of Revelation again. God's Word is alive. It's not a dead letter. It's alive and I guess we've all experienced how God spoke into a situation in our lives. Sometimes through a sermon like that, where you sit in the service and think, that person up front must know me, he just said that for me. God's word is full of power. God says it doesn't come back empty but does what He wants. It creates life. When God says there will be light, there will be light. When Jesus says: Lazarus, come out of the grave, then a corpse becomes a living person. When Jesus says, Fear not, sorrows leave our hearts. God's word admonishes and comforts, encourages and heals, changes and gives direction. He is the one who quickens us, who breathes new life even into dead bones, as described in the book of Ezekiel.
God's Incredible Ways pp. 171-173 Willow Creek's Reveal study found that study of the Bible is the single most important factor in a Christian's spiritual growth, and that when people become weary of faith, whose faith falters, they rarely do: Read the Bible.
And now Paul goes on to say that God's word is sharper than the sharpest sword that's sharpened on both sides. Letting God speak also includes:
3. Let God change you
Both here and in the picture of the vine there is something about pruning. Anyone who has one knows that you have to prune, otherwise at some point it will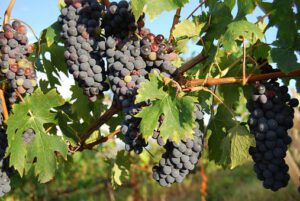 bear little or no fruit. I have to think about the tree here on the community meadow, cut back radically a few years ago, now it's blooming properly again God's Word does not cut through armor or metal or trees, but penetrates to the depths of our personality. It is the judge of our most secret desires and thoughts.

Before God we lie naked and bare, he looks into our hearts, he sees even the last corner. And to him we owe an account for every deed, every word, every thought, every desire, every striving, every feeling.
It doesn't feel good when I read this, does it? Neither would it be if Jesus could not understand our weakness. Wouldn't it be if we didn't have a merciful God who wants to show us mercy, experience grace and give help at the right time. These lines just sound harsh on their own, but God is a God who loves us and who is for us.
The same is true of Psalm 139, by the way. The fact that God knows me is overwhelming to David at first, so that he wants to flee. But when he realizes that God created and loves him, he becomes honest. Then everything breaks out of him, including negative feelings that are in him and he can offer his heart to God and ask him to examine it, to correct it, to shape it and to guide him. Let us turn our hearts to God and ask him to revitalize us through his spirit. When we can trust God and His Word has the power to change us, to move our hearts, to revitalize us, and to draw us to Himself, how much we need it, even if it sometimes hurts what we discover in it.
Sometimes he needs to let us see.
Sometimes it is essential that we learn a little bit more about ourselves.
Sometimes he has to show us something, cut a little deeper and reveal what's going on more clearly.
Because otherwise we'll get lost.
Or because we otherwise hurt others too much.
Or because we can't grow otherwise.
Or because otherwise we will fall behind like the Hebrews.
This is not always easy, but only a tree or vine that is pruned will blossom and bear fruit.
The next point is directly related to this:
4. Discard sin
"… let us lay aside every weight, and the sin which doth so easily beset us, and let us run with patience the race that is set before us, 2 Looking unto Jesus the author and finisher of our faith; who for the joy that was set before him endured the cross, despising the shame, and is set down at the right hand of the throne of God. 3 For consider him that endured such contradiction of sinners against himself, lest ye be wearied and faint in your minds.(Hebrew 12:1-3)
Put away sin. Paul writes that with a view to Jesus and the goal of eternity we want to put aside everything that hinders us on this run. Sin is a very important factor. In other translations it means the sin that so easily ensnares us. Like little cords that make us trip.

When you run a run and you keep stumbling, you eventually get tired. And maybe that's one of the reasons you got tired. Or that you can't really get on your feet anymore. That you make small compromises. You don't take it so precisely anymore. Maybe you wish that God would do something in your life again, but as long as he doesn't do it, you don't take it too seriously. The writer says sin so easily captivates us. Yes exactly, these thoughts are so small and yet destroy so much. Because Jesus knew what joy awaited him, he even accepted death on the cross. He made no compromises. He went the way consistently to the end.
How good for us. Jesus already mentioned the connection between joy and keeping God's commandments in John 15. God does not give us his commandments so that we may earn heaven or gain approval from him. No, it's like in a relationship where it becomes clear that I love the other person by taking what he or she says seriously. And because it's God, I can also trust, that's not always the case with people, but with God it is, that what he says is good for me.
The devil tries to whisper to us that God wants to limit us with his commandments, that he wants to spoil our fun. But God gives them to us, because he knows they are good for us. He knows how to succeed in our lives and that when we are obedient to Him, we experience that joy.
"The fear of the LORD is the beginning of knowledge: but fools despise wisdom and instruction." (Proverbs 1:7)
So taking God seriously and taking what God says more seriously than people and circumstances, that's true reverence for God and that's what really makes us thrive. And that goes really deep now and is a blatant focus, I just noticed during the preparation that Jesus says yes:
Verily, verily, I say unto you, Except a corn of wheat fall into the ground and die, it abideth alone: but if it die, it bringeth forth much fruit. (John 12:24)
That's pretty harsh, because we don't actually want to die, and not in a figurative sense either.
We want to decide where to go in our lives. But we decided in baptism to die and to follow Jesus with everything we are and have, and to take him seriously, more seriously than ourselves, and I believe we have to do that again and again, not just once, but make this decision every day that we are willing to listen to him, even if it costs us something, even if it feels like dying, but with the focus that what Jesus is there in our life and through us will be good Life does like pruning a tree or a vine.
And that is a question of whether we are ready for it. And that is why the writer of (Hebrews 3: 7-8) struggles for his listeners: Let God do it:
"Today, when you hear his voice, do not harden your hearts."
Let God change you, put away sin, let him speak and trust him!
For some of us, that's exactly what this morning is about. In this process we need trust and patience.
That's why it's part of it
5. Be patient and don't throw away your trust
(Hebrew 10:35-39) 35 Cast not away therefore your confidence, which hath great recompence of reward. 36 For ye have need of patience, that, after ye have done the will of God, ye might receive the promise. 37 For yet a little while, and he that shall come will come, and will not tarry. 38 Now the just shall live by faith: but if any man draw back, my soul shall have no pleasure in him. 39 But we are not of them who draw back unto perdition; but of them that believe to the saving of the soul.

Patience is rewarded, but sometimes patience is also needed because change does not always happen immediately. Being a Christian includes periods of brokenness and suffering. The Bible is very clear on that. We can fight it, or accept it, accept it and learn to listen to God. The spiritual life is also up and down. It's not that our relationship with God is passionate every day and only going uphill. But in all of this God is there, and though I have wandered in the valley of darkness, Psalm 23: you are with me.
He comes to the goal with us because he has a plan. And it is precisely this goal that we should and must always keep in mind, I believe. Why is? But not just about this life. Don't throw away your trust! He will be richly rewarded one day. Jesus is coming and we will be with him. Don't let that hope rob you no matter what situation you're in right now.
This is no consolation but reality. And that reality can give us hope and perseverance even when things aren't going well in this life. We can and should look away from ourselves and our situation towards God. Our patience is rewarded.
But because it's not that easy, that's why the last point is so important so that you can blossom with God:
6. Live community
23 Let us hold fast the profession of our faith without wavering; (for he is faithful that promised;) 24 And let us consider one another to provoke unto love and to good works: 25 Not forsaking the assembling of ourselves together, as the manner of some is; but exhorting one another: and so much the more, as ye see the day approaching. (Hebrew 10:23-25)
Togetherness and community are also part of setting the right focus at the beginning of the year and blossoming. As children of God, God placed us in a common family. We are brothers and sisters and we are responsible for each other. Because we all have one thing in common. We want to love Jesus. We want to honor Jesus. Sometimes we fail. Sometimes we lose sight of the goal. Sometimes we lose hope because of circumstances, sometimes because of what we see inside us.
But then we can encourage each other and fight together. We can exhort ourselves where we see one going astray. We can encourage one another not to be content with our faith dangling. We can help each other practically and pray for one another Again and again. I have to think of the story where the 4 men bring their friend to Jesus, uncover the roof, let him down on ropes on his mat because they expect Jesus to help him.
For me, that is a practical picture of what it means to stand up for one another, precisely where we have doubts, where we are disappointed, where we are going through difficult times. To really live together, because that is what carries. And Paul writes here that we should not stay away from our meetings. This does not only mean the services. There used to be house churches like our small groups. Where it is also something more personal. And if you don't have such a group, then I encourage you to look for one and you are welcome to contact me.
I know it's really challenging at this time. But I just want to challenge again: It is God's word and it is important to take it seriously and to ask ourselves how we can live, even in view of the current situation, that we let what he says determine what is good for our lives. And so our life will flourish. There's one more thing that's important for us to thrive, but I'll go into more detail on that next Sunday when the topic is thriving as a church.
I believe that as we live our lives with the awareness that Jesus is worth following, that we are deeply rooted in our relationship with him and that we make time this year to let him transform us, that we put away sin and have patience and don't throw away our trust and support each other in it, then our life with God will flourish and then we will also come through difficult times, which we may be in right now or which are ahead of us with the Focus that Jesus is with us and that He will use these times for His glory and to transform us more and more into His image. And I wish that with all my heart that we experience it the same way in 2022 and that we blossom with God.
Amen