Sermon on November 28, 2021
KaB FKB (Andreas Latossek)
"

I want to give you a present. God

– with full life"
This sermon is translated from German into English. You can find the original video here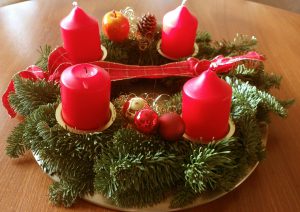 1 Advent
I want to give you a present. God. – That's a cool statement. And the longer I think about it, the more I get excited. That God wants to give me gifts. I mean, he doesn't need that at all. I don't even know whether we have this image of God that he would like to give us a present, but it is like that. That is why we celebrate Christmas because God gives us his Son and much more with him. And that's what we want to discover in our new series of services during Advent and Christmas. We'll look at the gifts in detail, but the gift today is, so to speak, the prerequisite for all of the other gifts that God wants to give us.
I want to give you a present – with a fulfilled life. Who of us longs for a fulfilled life? I don't know what those yearn for who haven't contacted us now. I think that is exactly what everyone longs for, a full, happy life. We are always looking for it. And we think, once we have this and that, then. This is how advertising works: You absolutely need the product xy, and if you get it for Christmas this year, then you will be happy:
Good look, the right job, the right partner, the house or that car, bless you Recognition. I don't know what you're thinking about right now.
The problem is: When we have it, we notice that it doesn't last long, it doesn't make you happy for long. And we notice that there is a longing in us, but we fail to satisfy it in the long term. Someone once said: I actually had everything. That's when I noticed that something was still missing. The apostle Paul, who was looking for this fulfilled life, looked in many places, was mega religious, he writes:
 15 Of whom the whole family in heaven and earth is named, 16 That he would grant you, according to the riches of his glory, to be strengthened with might by his Spirit in the inner man; (Luther translates here: to become strong in the inner man) That Christ may dwell in your hearts by faith; that ye, being rooted and grounded in love, 18 May be able to comprehend with all saints what is the breadth, and length, and depth, and height; 19 And to know the love of Christ, which passeth knowledge, that ye might be filled with all the fulness of God. 20 Now unto him that is able to do exceeding abundantly above all that we ask or think, according to the power that worketh in us, 21 Unto him be glory in the church by Christ Jesus throughout all ages, world without end. Amen. (Ephesians 3:15-21)
That in this way you will be more and more filled with the fullness of life. And now: where is this life to be found? That can be found with God. That can be found with God. So God wants to give us a gift: a full life. And Paul also answers the question how we can get hold of this gift: He writes that my life becomes more and more fulfilling, the more I understand God's love for me, actually it is said here, seize. So this is more than just with the head, it is with the heart, with my whole being to understand, to feel, to know how much God loves me.
Another gift that God gives us, that we are beloved of God. And to an extent that goes beyond all of our dimensions. We think three-dimensionally, we are talking about four dimensions of this love in order to make the size clear: the width, length, height and depth. This love is so big and blows my horizon that we can recognize more and more of it throughout our lives. Whenever I think I have now understood, God surprises me again. Grasping this only stops when we see God face to face. Only then will we get out of our three-dimensional thinking and will fully understand how much God loves us. But this also means that it is not possible to be absolutely filled here on earth. But there is still a bit of longing left. That is why the Bible also says that God has put eternity in our hearts because this longing for a fulfilled life drives us to God. And how awesome it is when we can still discover more. We can always be more fulfilled to become happy, Experience peace, to rest in us and not always have to chase after everything in the hope that it will fill us … the more we understand God's love for us.
This fulfilled life that God would like to give us has to do with our inner human being and not so much with our outer one. Even if God takes care of our outward appearance because He takes care of our whole life. But we can have everything on the outside and be completely empty on the inside. On the other hand, if we are fulfilled on the inside, then we can even feel bad on the outside, and we can still be happy and satisfied. My grandpa was always a great role model for me. He went through the war, was imprisoned by Russia, and that left its mark both inside and out. At the end of his life there wasn't much more he could do than lie there. And yet he radiated such deep satisfaction all his life and always said: The greatest thing is that God loves us and we are allowed to belong to him and he holds our life in his hand.
So; God wants to give us a full life. And we get this gift by unwrapping a second gift, namely God's love for us, for you, and who understand more and more. And what helps us with that? Paul mentions three points here: We understand God's love more and are so fulfilled by that
1. Christ dwells in our hearts by faith
2. Our life is rooted in love and founded on the foundation of love
3. The Holy Spirit gives us inner strength and strength
1. That Christ dwells in our hearts by faith
What exactly does Paul mean by that? I would like to take you into an encounter that Jesus had, which makes this clear: You can read the story in  John chapter 3:
There was a man of the Pharisees, named Nicodemus, a ruler of the Jews: The same came to Jesus by night, and said unto him, Rabbi, we know that thou art a teacher come from God: for no man can do these miracles that thou doest, except God be with him.

(

John 3.2)
Nicodemus was a Pharisee. They were the pious of the time. In fact, they rejected Jesus. But Nicodemus is still fascinated by Jesus. He realizes that there is more than he has: Full life. There is something about this Jesus who said such wise things, did such wonderful things. There's something to this Christmas: the lights, the smell of fir branches and biscuits, the ringing of the bells. The special mood, shepherds and angels, peace on earth … As much as we may be annoyed with the gift giving and the religious fuss and the family celebrations. It's worth taking a look behind it. Because Nicodemus doesn't want the others to notice anything, that he at least wants to get a picture of Jesus for himself and doesn't just want to trust what the others say and what you hear, he goes secretly in the middle of the Night to jesus. And what Nicodemus does is totally good. He doesn't just rely on the others. And maybe that is exactly your situation when you say you want to get an idea of ​​Jesus for yourself: Then you are exactly right. Go on a search, ask your questions, start reading the Bible. While Nicodemus is still with his introductory words, Jesus goes straight into the depths because he knows the longing that Nicodemus drives:
"Jesus answered and said unto him, Verily, verily, I say unto thee, Except a man be born again, he cannot see the kingdom of God." (John 3,3

).
Applied to Christmas this could also mean:
"If you are not born again, you cannot see the essence of this festival." Then you always only see the outside: depending on your point of view, you see the lights and the glamor and the magic or you see the consumption, the hype and the family quarrel, which is painstakingly swept under the carpet over the holidays.
But in order to discover the essence of Christmas, you need new eyes, a new point of view, a different approach, in short: a new birth.
Could it be that Christmas is not just about the birth of the child, but also about a new birth for us? But what does that mean? Nicodemus asks himself that too.
4 Nicodemus saith unto him, How can a man be born when he is old? can he enter the second time into his mother's womb, and be born? 5 Jesus answered, Verily, verily, I say unto thee, Except a man be born of water and of the Spirit, he cannot enter into the kingdom of God. 6 That which is born of the flesh is flesh; and that which is born of the Spirit is spirit. 7 Marvel not that I said unto thee, Ye must be born again. 8 The wind bloweth where it listeth, and thou hearest the sound thereof, but canst not tell whence it cometh, and whither it goeth: so is every one that is born of the Spirit. 9 Nicodemus answered and said unto him, How can these things be? 10 Jesus answered and said unto him, Art thou a master of Israel, and knowest not these things? 14 And as Moses lifted up the serpent in the wilderness, even so must the Son of man be lifted up: 15 That whosoever believeth in him should not perish, but have eternal life. 16 For God so loved the world, that he gave his only begotten Son, that whosoever believeth in him should not perish, but have everlasting life. 17 For God sent not his Son into the world to condemn the world; but that the world through him might be saved. 18 He that believeth on him is not condemned: but he that believeth not is condemned already, because he hath not believed in the name of the only begotten Son of God. 19 And this is the condemnation, that light is come into the world, and men loved darkness rather than light, because their deeds were evil. 20 For every one that doeth evil hateth the light, neither cometh to the light, lest his deeds should be reproved. 21 But he that doeth truth cometh to the light, that his deeds may be made manifest, that they are wrought in God. John 3: 4-10, 14-21
    Jesus enlightened Nicodemus. This is not about a human being born again. To be a baby again. That doesn't even work. Instead, Jesus speaks of a spiritual dimension. A new life given by the Holy Spirit. As with the wind, you cannot see this new life, but you can feel the effects in the lives of those who have received this new life. When you have a full life, it is outwardly visible. The American anthropologist William Reyburn made it his life's work to scientifically research and penetrate the language, culture and tradition of the Peruvian Quechua Indian tribe. After decades of intensive occupation with this very scattered Andean people, he started an experiment. Would he be able to pass himself off as Quechua in appropriate clothing? For a few weeks he wandered from village to village. But despite the accent-free language, Native American appearance and familiarity with the customs and traditions, he never succeeded anywhere in convincing anyone of his Quechua identity. One day when he asked a chief what he had done wrong, the answer he received was: Nothing! When asked what had betrayed him, the chief replied: You have no Quechua for your father! Authenticity cannot be imitated.
Not even in faith. We can adopt a corresponding behavior or a certain language, but if we are not shaped inside, then people notice that. You need God as a father. And that's exactly what we celebrate at Christmas. God the Father sends his Son Jesus into this world because he loves us so much. Jesus comes as light into our darkness, as we heard earlier. He does not come to judge us, to judge us for all that goes wrong in our lives, but to save us humans. When Jesus says that the Son of Man must be exalted, he is speaking of himself dying on the cross for our debt to pay for us. To take away the separation that stands between God and us, to make forgiveness and reconciliation possible. And then he says:
Rev. 3.20 "Behold, I stand at the door, and knock: if any man hear my voice, and open the door, I will come in to him, and will sup with him, and he with me."
Relationship is now possible and that is the greatest gift ever. Jesus gives himself. He gives himself to people as a person. He gives himself to the people on the cross. And he gives himself to each and every one of us by wanting to move in with us himself. And that means that Christ dwells in our hearts by faith. With whom Jesus lives, he can grasp his love deeper and deeper, he experiences a fulfilled life through it and that even in all eternity. And God calls him his beloved child. At this moment the Holy Spirit gives this new life, which Jesus spoke of with Nicodemus. And the water is an image for baptism, in which we symbolize that the old life is over without Jesus and a new life begins with Jesus. But Jesus also says to Nicodemus that it takes something, namely to step into the light, to acknowledge his guilt, to be ready to admit it and to accept the gift of Jesus. And he also says that people love evil more than God and by rejecting him they judge themselves. We don't read anything from Nicodemus' reaction to what Jesus is saying here. But we see that he later helps to take Jesus off the cross and church history tells us that he became a disciple of Jesus. What is your response to the gift that Jesus wants to give you? When we invite Him into our lives and begin to live with Him, Christ begins to dwell in our hearts. This is the first step, because then this life with Jesus continues.
When Paul writes that Jesus dwells in our hearts because of faith, then one can imagine it figuratively. The point is that he gets more and more space in us. He wants to change us and throw out that which does not fit into a "divine" life. Imagine how many rooms in your heart. And you invited Jesus and then he's in.
And then there is one part of your family. Is god in there?
An area of ​​your friendships. Is God there?
One area of ​​your hobbies, do you live with God?
Your work? May God be there.
Then we have such rooms that we don't like to let anyone look inside. Secrets. Bad thoughts. Failure. Addictions. Dirt in our life. May God have a say?
Things that are so dear to us, but actually don't go well with God. Is God allowed in there?
I realize that God wants to be there everywhere in my life. And some rooms took their time until I opened them to God. The more we let him into all areas of our life, the more we experience that God is good and wants our best and the experience of his love grows and our life is fulfilled. Pope Francis dedicated his first apostolic letter to this topic in November 2013 – with the title: "Evangelii gaudium". It says in the introduction: "The joy of the Gospel fills the hearts and lives of those who meet Jesus. Those who let him save them are freed (…) from sadness, from inner emptiness and from loneliness. Full life! A second thing Paul writes: We understand God's love more and are so fulfilled, through.
2. That our life is rooted in love and founded on the foundation of love.
Rooted in love means first of all to be connected to God. God is love. We should be rooted in him. Have you ever tried to get a tree with deep roots out of the ground? You usually have to dig really deep and wide because it is so well connected to the earth through the roots and from it he gets his nourishment. How tight are you with God? How much time do you spend with him? Reading the Bible to get to know him better? Talking to him, we call it praying? This is how we get spiritual nourishment.
This is how his love reaches and shapes us. Ps. 16:11: Thou wilt shew me the path of life: in thy presence is fulness of joy; at thy right hand there are pleasures for evermore.
If we seek this closeness to God, are connected to Jesus, to cultivate our relationship with him, then his joy fills and shapes us. And to be founded on the foundation of love That means passing this love on to other people. Perhaps that begins first with myself, learning to love myself and to learn to see through God's eyes. And then with the people who are closest to me. To treat my wife, my husband, my children and my parents with love, with my neighbors, even if it is sometimes difficult, my work colleagues, here in the church, and then of course also people who need our help. This is a spiritual principle where we may wonder what this has to do with being filled with God's love and living a fulfilled life. I would like to compare that to a glass. God lives in us, we are in close contact, his love can flow and he pours his love into us. And the Bible says God pours us full. Full life. Even in abundance. And that's good because I don't have to idle. And God helps me to love difficult people with his love. But imagine if I would now try to keep it all to myself and not let anything overflow. Doesn't work in my picture here. But what would happen? Nothing can keep up with up there, because at some point it will be full. And the standing water begins to rot. When we pass on God's love, his love flows and we experience it more and more. And one last thing Paul writes: We understand God's love more and are so fulfilled, through it.
3. That the Holy Spirit gives us inner strength and strength.
When we open the door to God, God gives us his Holy Spirit. And the great thing is that this Holy Spirit draws us to God and that he works in us. We can do our part to understand God's love more and more, but at the same time God's spirit works in us and strengthens our inner people and gives and power and strength. And he just does that. Paul will later write that we should not grieve the Holy Spirit but let the Spirit fill us. This happens by listening to his talk on a day-to-day basis. By being allowed to change us. And Paul is praying here that the Holy Spirit will give inner power and strength and therefore it is good that we do that too. Ask the Holy Spirit to fill us more and more, to strengthen us and to let us understand the love of God more and more.
God wants to give you a fulfilled life. He loves you infinitely and the more you understand this love, the more your life will be filled and fulfilled. And that is possible because Christ dwells in your heart because of faith. By giving himself to yourself and you invite him, entrusting your life to him and letting him into all rooms of your life. Because your life is rooted in love and founded on the foundation of love, so you are closely connected to Jesus and his love can flow through you to others. And when the Holy Spirit gives you inner power and strength, as God's Spirit works in you, changes you and lets you understand God's love and we may ask for that. The Lord's Supper, which we want to celebrate together after the next hymns, is a sign of this love for Jesus, who gave his own life out of love for us. And it is an invitation to accept the gift of a fulfilled life, to invite Jesus himself into our life or perhaps also into areas of our life where we have so far left him outside. Use the time of the songs and the Lord's Supper to talk to Jesus about the fact that today and in this Advent season he is meeting you for the first time, completely new or even more deeply than ever before.
Amen

Would you like to get to know Jesus Christ too?