Marvellous works of the Holy Spirit … in the hospital and beyond

As we reported earlier, the viciously-attacked church members in northern India have all been released from hospital and are completely well. Thanks to the witnessing and miraculous ultimate healing of Pastor Kumar, an even greater miracle happened. Practically every hospital staff member, doctor, nurse, and nursing student—over 500 people—made decisions to follow Jesus! [that story here]
So the challenge now of course is to lead and disciple so many new believers. Pastor Kumar has returned to his own small original home church, where already many Hindus had begun attending even before the salvations in the hospital. With no space available to hold the growing crowds, he has been holding outdoor services, hoping and praying to have a permanent place of worship in the near future.
The great 'hospital church' has begun now as well. Authorities granted Pastor Kumar and his team permission to conduct monthly bible classes and prayer meetings in the hospital auditorium, with the very first held this past Friday.
More than 1,200 people attended, including the hospital's managing director and some doctors' families. After the message, every single 'new person' in attendance accepted Jesus as Lord and Savior, and all who had done so at the previous gathering (where Pastor Kumar shared his story of healing, witnessed to by the doctors, and shared the gospel) rededicated themselves to the Lord.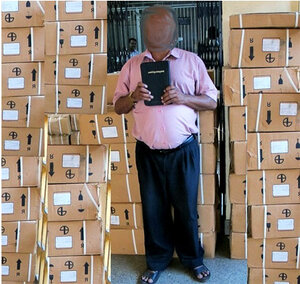 "It was a great blessing and the Holy Spirit was moving upon the meeting", reports Pastor Peter Haneef, who heads up the Assembly of Loving God (umbrella organization for Bibles for Mideast).
Pastor Kumar and his team were able to provide 1,100 bibles to the new believers, thanks to the generous help of supporters. All who received them were thrilled to have their own copies of the written Word of God.
When the meeting wrapped up, the team gained permission to join the doctor-on-call for hospital rounds with a holy difference! They visited patients in their rooms, shared the gospel, and prayed for them. More requests for bibles came in as the patients heard, for the first time, the truth of Jesus. Since the supply had run out, they were promised them as soon as possible. Many of those ministered to also assured the team that even if discharged, they'd return to the hospital for the next prayer meeting!
Pastor Peter Haneef, President of the Assembly of Loving God, wants to especially thank all of our partners and supporters for their faithful and continuing support.
Bibles for Mideast churches, all under the Assembly of Loving God, have 432 pastors and missionaries working and establishing churches in Asia, Africa and Middle East. Most of them live and work in regions highly restricted for Christian outreach of any kind. They, with their families, face countless hardships and near-constant persecution.
"But our Lord protects them under His wings by your prayers," says Pastor Peter.
"Our pastors and missionaries are all converted Christians from other religions," he reminds us. "They do not have worldly blood relatives to wish them a Merry Christmas, or send them a gift."
Can you imagine how strange a Christmas season that would be for any of us in rich first-world countries?
"If you consider them as your spiritual blood relatives in Jesus Christ," he goes on, "would you consider sending them a gift as your token of love in this happy season?"
He speaks for all of us here at Bibles for Mideast and Assembly of Loving God in adding:
"We wish you a Merry Christmas and a prosperous new year, 2020. May the grace of our Lord Jesus Christ, the love of the Father and the fellowship of the Holy Spirit be with you all now and forever. Amen."
December 09, 2019
Source: Bibles for Mideast
Would you also like to get to know this God?