Advent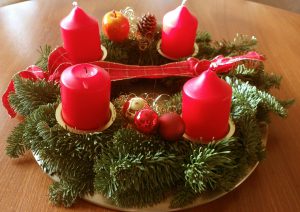 Advent – a time for reflection. That's how it should be, but what happened to it? The days are filled with hectic activity that is now being slowed down by the corona pandemic and giving way to concerns about how things will go on and how we will celebrate Christmas during this time? Anyway – what does Christmas mean to us? We widely celebrate a "family festival", a "festival of love". We give each other ever greater gifts, but we have forgotten the greatest gift! Tradition has overwhelmed Christmas and turned it into a festival that has little or nothing to do with the original events of Christmas. Let us consider together what the background of this festival actually is. The Bible is full of information about what Christmas happened, how it came about, and where it will lead us. Let's discover and unpack the greatest gift ever given to a person together. So we can rediscover what the songwriter and pastor Paul Gerhardt put it like this:
My heart should jump happily
this time, when before Freud
Hear, hear, like with full choirs
Christ is born. Today go out of his chamber
God's hero who controls the world
God becomes man for you, man, for your benefit.
God's child that connects
We wish you a happy and blessed Advent and Christmas season and lots of blessings while reading the following sermons.